▶ SEGA SATURN DATABASES
★ SEGA SATURN GAMES
★ SEGA SATURN DEMOS
★ SEGA SATURN CONSOLES
★ SPECIAL SEARCH
Saturn Games and Demos
▶ GAME BASIC DATABASE
▶ DEZAEMON 2 DATABASE
Find the Best Auctions
▶ SEGA SATURN STORE
★ SEGA SATURN STORE GAMES
★ SEGA SATURN STORE DEMOS
★ VIDEO GAME STORE
Sega, Nintendo, SNK, NEC, Atari, Bandai, Sony, Microsoft, Etc.
FAQ and Tips
FAQ et Astuces
▶ HOTTEST AUCTIONS
★ SEGA SATURN AUCTIONS
★ SEGA DREAMCAST AUCTIONS
▶ SISTER CHANNELS
★ TOY STORE
Lego®, Playmobil®, K'Nex, Tobot, Hot Wheels, Micro Machines, Etc.
★ SEXY LINGERIE STORE
★ EBAY COUPONS AND DEALS
FRENCH REVIEWS
SGB Forums
SEGA-Mag
Megaoldies
SEGA-Legacy
SegaXtreme
Our banner:

Sega Saturn Game Information
Ninpen Manmaru
忍ペンまん丸
T-35502G
Ninpen Manmaru (忍ペンまん丸) is an Action - Platform game, developed by Tamtam Co., Ltd. and published by Enix, which was released in Japan in 1997 for the Sega Saturn.
Developer:
Tamtam Co., Ltd.
Box / Packaging:
Standard CD Case
| | |
| --- | --- |
| Age Rating: | |
| Barcode(s): | Official Barcode |
Peripheral(s) Compatibility:
Unknown
External Cartridge Required:
None
Compatible with VideoCD Card:
Unknown
Sega Saturn Hardware Compatibility
Language(s)
| | |
| --- | --- |
| In Game | Unknown |
| In the Manual | |
| On the Back Cover | |
| Playability for non-japanese people | Unknown |
Usage of Memory Backup:
Yes
Minimum Memory Required:
Unknown
Type of Backup:
Game Progress
Type of Video Files:
Unknown
Type of Sound and Music Files:
Unknown
Omake / Bonus(es) on CD:
Unknown

List of games and demos with Omake / Bonus(es)
---
---
From the Same Series
None
---
---
Who has it? / Who is looking for it?
---
---
---
Top :: Bottom Multimedia Data
Picture of the Actual Game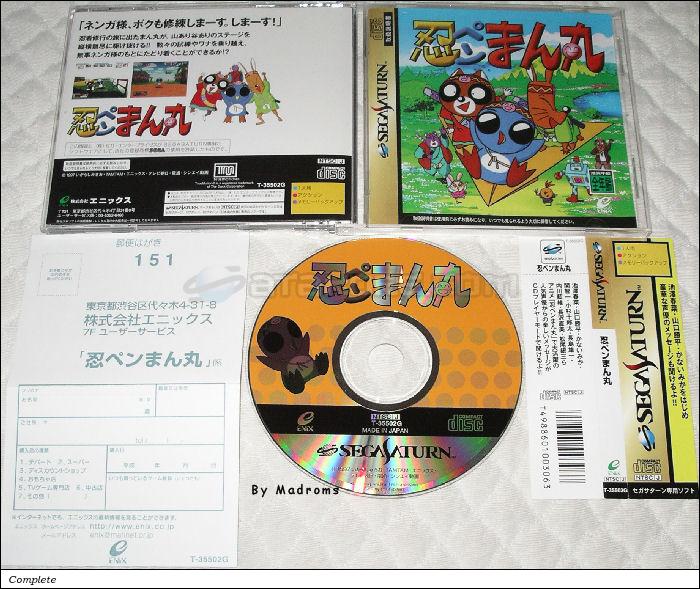 ---
---
Video(s) Made and Recorded by Madroms
Video Links:
On Youtube:
Part 1
---
Review:
God of War, Twilight Princess, Tomb Raider, Jumping Flash, Alone in the Dark. This game is none of these yet somehow possesses a small piece of each, which makes this reviewer wonder where those games got their start. It's the little obscure games like Ninpen Manmaru that made bigger waves later on, but that's not to say Ninpen doesn't hold it's own. The one overriding factor in every game ever made isn't how good the graphics look or whether or not the audio is analog or DTS, but whether or not the game is playable. Gameplay is what keeps you coming back for more, and Ninpen Manmaru has loads of solid gameplay.

Ninpen Manmaru is an obscure Japanese platformer / puzzler based on the Anime of the same name from the folks at ENIX / TAMTAM. Colorful 3D worlds abound in this little gem where you'll wander around figuring out the way to the finish before the proverbial clock runs out. The first few levels are pretty easy, but the game does progress nicely making you want to throw your controller through the TV. Only the good games will do this.

Although this game isn't a graphical masterpiece, it is rather pleasing to the eye despite some of the larger pixilated textures. The maps are well done and obstacles all well planned out making you take time to figure out what your next move should be. It has to be one of the stranger titles to inhabit the Saturn library, but I won't spoil the little surprises littered throughout the game. Weird is the best way to describe this one.

The digital control in this one is choppy, too bad the game is not compatible with the analog pad. The audio on the first level is straight out of Mario Sunshine's beach levels with the heavy Caribbean theme playing in the background, in fact, I could almost swear Miyamoto borrowed this track for Mario Sunshine. There's also an underlying digitized track which sounds great on a good home theater. Ninpen has some nice cut-scenes to add a bit to the story which I'm assuming come from the Anime.

Overall Ninpen Manmaru is a fantastic little platformer / puzzler which is pleasing to the eye and more importantly retains the most key ingredient for any game; GAMEPLAY, GAMEPLAY and more GAMEPLAY. This is a highly recommended title.
Top :: Bottom Tips, Tricks, Cheats and Walkthroughs
GAMES and TOOLS
The Sega Saturn Database is the master list of all the games and demos that have been released for the Sega Saturn. More than a single list, it is a full database with a lot of informations provided for each entry.
---