▶ SEGA SATURN DATABASES
★ SEGA SATURN GAMES
★ SEGA SATURN DEMOS
★ SEGA SATURN CONSOLES
★ SPECIAL SEARCH
Saturn Games and Demos
▶ GAME BASIC DATABASE
▶ DEZAEMON 2 DATABASE
Find the Best Auctions
▶ SEGA SATURN STORE
★ SEGA SATURN STORE GAMES
★ SEGA SATURN STORE DEMOS
★ VIDEO GAME STORE
Sega, Nintendo, SNK, NEC, Atari, Bandai, Sony, Microsoft, Etc.
FAQ and Tips
FAQ et Astuces
▶ HOTTEST AUCTIONS
★ SEGA SATURN AUCTIONS
★ SEGA DREAMCAST AUCTIONS
▶ SISTER CHANNELS
★ TOY STORE
Lego®, Playmobil®, K'Nex, Tobot, Hot Wheels, Micro Machines, Etc.
★ SEXY LINGERIE STORE
★ EBAY COUPONS AND DEALS
FRENCH REVIEWS






SGB Forums
SEGA-Mag
Megaoldies
SEGA-Legacy
SegaXtreme

Our banner:

Sega Saturn News

En plein "revival" de Success, vous n'êtes pas sans savoir qu'une compilation regroupant Cotton 2, Cotton Boomerang et Guardian Force, vient de sortir sur playstation 4 et nintendo switch. Sous-titrée Saturn Tribute, voilà une bonne occasion pour les retardataires de se les procurer sans avoir besoin de casser la tirelire.
Ce mois-ci donc, je vous propose (avec un bon mois de retard) la review+screenshots de l'un de ces 3 jeux, ainsi que de beaux screenshots pour Virtua Fighter Remix :






See you again before 2022, maybe...
| | |
| --- | --- |
| Author: Murazame | Sun Oct 03, 2021 - 01:02 am |

After months of work, we are proud to launch today the improved version of the site, which is now fully suitable for mobile, but also for large screens.
Thus, you will benefit more than ever browsing the site, Sega Saturn databases and all the Stores. You will get better User Experience on small screens (mobile phones, tablets, etc.) and large screens.
There are still 2 or 3 minor pages not fully converted at the moment, but they will be very soon.

There are other new features like the ability to only see NEW auctions (from the last 24 hours) in stores, and other stuff here and there.

If you encounter any bugs or weird stuff on the site, or have something to report, please send us a message using our contact form.
| | |
| --- | --- |
| Author: Madroms | Sun Sep 12, 2021 - 03:58 pm |

Entre 2 achats de jeux de mahjong, la Saturn a beaucoup tourné récemment (Dragon Force I&II, Senkutsu Katsuryû Taisen Chaos Seed,慟哭そして..., etc.). Pourtant la dernière news date de janvier, déjà ! Aujourd'hui, on fait un petit saut du côté de l'action avec la review de Hissatsu!, jeu très minimaliste (pour dire le moins) qui avait eu raison de ma patience, il y a de cela plusieurs années. Grâce à un walkthrough d'un obscur fan site nippon, j'ai trouvé la sortie de l'ignoble 3ème niveau... pour en découvrir un 4ème encore plus absurde ! Bon, ce fut dans un sens assez rigolo et/mais heureusement très court. Au passage, quelques captures supplémentaires ainsi que celles de Garô Densetsu 3 ~Harukanaru Tatakai~ :







Un grand merci à Madroms pour le maintien et la gestion (impeccable) du site depuis tout ce temps !

See you soon, maybe...
| | |
| --- | --- |
| Author: Murazame | Fri Jul 02, 2021 - 10:41 am |

L'année maudite 2020 n'aura bien sûr pas eu la peau de Satakore qui continue après plus de 15 années d'existence (et tout juste 700 inscrits au compteur au moment où j'écris ces lignes), faudrait-il le rappeler de temps à autre.
À l'heure où les plateformes de streaming prennent toujours plus d'ampleur, il n'est pas facile de rester motivé pour continuer ce bon vieux travail d'écriture mais sachez que, personnellement, je n'ai pas l'intention de rendre le tablier avant d'avoir traité la trilogie Shining Force III. Enfin, qui vivra verra...
D'ailleurs, on reprend tout doucement avec Harukaze Sentai V-Force, un tactical-rpg lui aussi :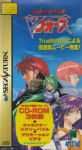 Pour maintenir la flamme, outre www.grospixels.com qui a récemment publié un article sur Dark Savior, ou www.sega-mag.com, toujours aussi actif et qui vient de faire peau neuve, voici 2 autres liens très sympathiques pour du retro-gaming de qualité.
Un blog japonais pour ceux qui savent le lire, il est mis à jour quotidiennement et la Saturn y a une place de choix:

www.blog.livedoor.jp

Ensuite et bien qu'il n'aborde pas les 32 bit, un petit gars de ma génération qui écrit tout plein de très bonnes reviews, peinard dans son coin :

www.1up-games.com

See you soon !
| | |
| --- | --- |
| Author: Murazame | Sun Jan 17, 2021 - 02:40 pm |

L'ersatz de review qui ne faisait pas honneur à l'excellentissime Langrisser IV (sans vouloir offenser l'illustre inconnu qui avait pris la peine de la rédiger il y a de cela plus de 15 ans) n'est plus ! Pour célébrer l'évènement, celle de Gekirindan l'accompagne (with new screenshots!). Un bon shoot'em up old school quelque peu gâché par un portage moyen sur Saturn :






Voilà ce sera tout pour cette fois, mais les activités devraient reprendre un rythme un peu plus soutenu à partir de septembre.
| | |
| --- | --- |
| Author: Murazame | Thu Aug 13, 2020 - 12:20 am |
About: Sega Saturn, Sega Saturn, Sega Saturn, Sega Saturn, and Sega Saturn Only! Nothing else than Sega Saturn
---
Page viewed 6994799 times
---