▶ SEGA SATURN DATABASES
★ SEGA SATURN GAMES
★ SEGA SATURN DEMOS
★ SEGA SATURN CONSOLES
★ SPECIAL SEARCH
Saturn Games and Demos
▶ GAME BASIC DATABASE
▶ DEZAEMON 2 DATABASE
Find the Best Auctions
▶ SEGA SATURN STORE
★ SEGA SATURN STORE GAMES
★ SEGA SATURN STORE DEMOS
★ VIDEO GAME STORE
Sega, Nintendo, SNK, NEC, Atari, Bandai, Sony, Microsoft, Etc.
FAQ and Tips
FAQ et Astuces
▶ HOTTEST AUCTIONS
★ SEGA SATURN AUCTIONS
★ SEGA DREAMCAST AUCTIONS
▶ SISTER CHANNELS
★ TOY STORE
Lego®, Playmobil®, K'Nex, Tobot, Hot Wheels, Micro Machines, Etc.
★ SEXY LINGERIE STORE
★ EBAY COUPONS AND DEALS
FRENCH REVIEWS






SGB Forums
SEGA-Mag
Megaoldies
SEGA-Legacy
SegaXtreme

Our banner:

Sega Saturn News (Archive)
- Page 17

Hell'O

Pour changer des sempiternels rpgs et shmups, deux genres très prisés dans le retrogaming, et loin d'être découragé par le faible nombre de "true Sega Saturn warriors" (une cinquantaine...), j'ai tenté l'aventure ailleurs:

- Shinseiki Evangelion-

- Shinseiki Evangelion 2nd Impression-

- Universal Nuts-

Plus de reviews du même genre (mais pas seulement) viendront en nombre avec 1 ou 2 surprises à l'intérieur :)


For more clarity and concision, we've made a little correction in the reviews'section: suppression of the "simulation war" category and all sports combined in one.
For more beauty, screenshots are regularly puted online; check by yourself!


ヤフーオークションの皆様へ:セガサターンゲームを出品する場合、当サイトのスクリーンショットはご自由にお使い下さい!


ご機嫌よう~★

| | |
| --- | --- |
| Author: Murazame | Sun Aug 07, 2011 - 02:48 am |

Level 50 reached! => New item available, only for members. Please follow the space invader (available on the top-right of the page) then register (again). This will be the new place to share stuff about Sega Saturn and other things.



I also added some new information, thanks to SaturnHST and PXL.

SaturnHST lets me know that the European and USA versions of Marvel Super Heroes work with RAM Cartridges. Yes, it was not officially supported, as RAM Cartridges was not released outside Japan, but they work like a charm.
He also tell me that 2 games are missing an item:
- Sega Rally Championship USA was missing a Thanks to Toyota and Lancia Blue Card
- Mouri Motonari ~Chikai no Sanshi~ was missing a Character List.


PXL found one new European game that has been released with a Plastic case: Actua Golf
He also found another CD variation for the European version of Virtua Fighter 2. This time, the cd has a Green Grey color. So, this game has 4 different colors for its cd label!


| | |
| --- | --- |
| Author: Madroms | Sat Jul 30, 2011 - 04:11 pm |

What happens when you will reach level 50 ?
More Power ?
More Health ?
More Magic ?
New Item ?

Who knows. A little effort and you will see ;)


| | |
| --- | --- |
| Author: Madroms | Thu Jul 28, 2011 - 09:44 pm |

From a collector's point of view, having a complete collection is sometimes a goal. Everybody has a different definition of what a complete collection is. It could be: all the games released, all the games released and their variations, all the games and not for sale titles, etc.

A lot of Saturn collectors try to get a complete collection of games released in the US. Games only, not demos. Ok, it is not so difficult to achieve. Then, sometimes, the collection goes a little further than that.

Working Designs is well known in the US to have released some beautiful packages and translations of Japanese games. On the Saturn, they did the same. Particularly, they made some alternate versions for 3 games: Albert Odyssey released with 2 different CD artworks (and a revision of its manual), Magic Knight Rayearth released with 3 different CD artworks and Dragon Force released with no less than 4 different CD artworks and 3 different Backup RAM Cartridge stickers.
This is enough for collectors to try getting all of these alternative versions.


The best for you, Saturn collectors, is to know what to look for and we, at satakore.com, try to help you.

You can already see what the Magic Knight Rayearth CD artworks look: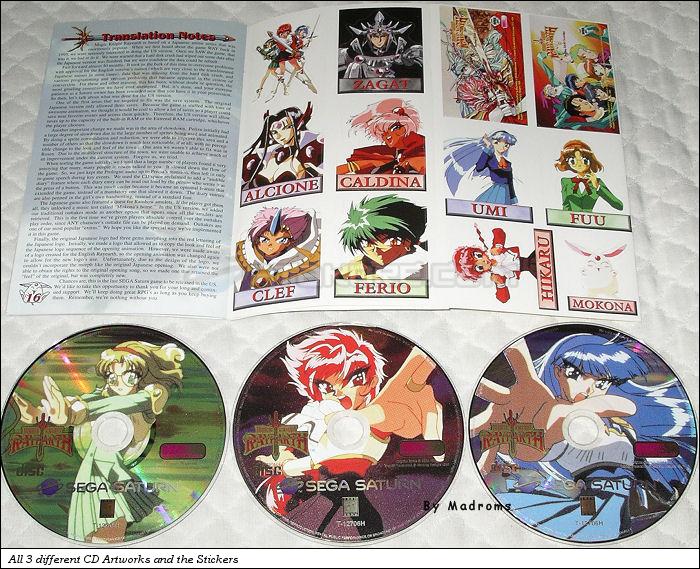 Same goes for Dragon Force: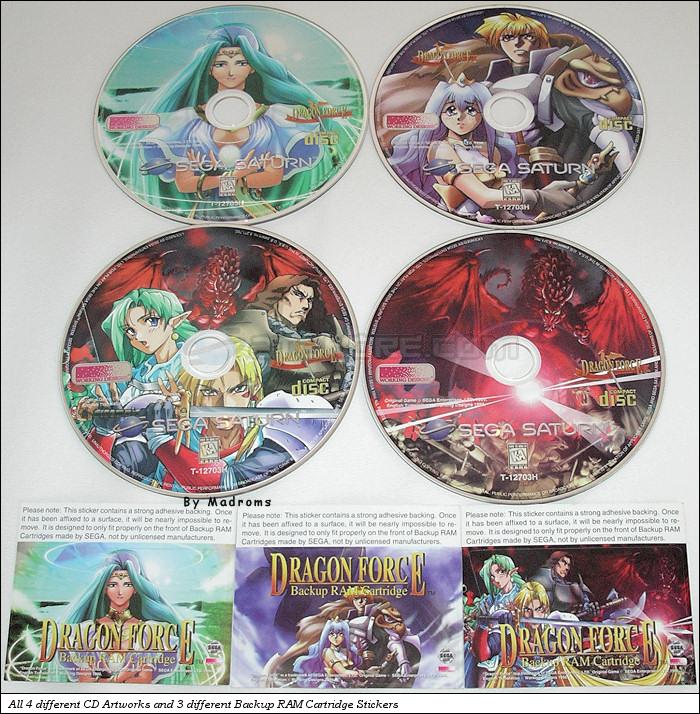 (Albert Odyssey will come soon).


Great, isn't it ?
But having the possibility to track down these Alternative Versions is better. This is what we thought. And this is why you can also manage this part of your collection at Satakore.com! Browse directly to The Minor Revisions / Alt. Versions page to see all the games and demos that could be managed this way.


And just for our US Collectors, here is a less known alternative version, for the Not For Sale 3 Free Games Pack:



There are also some Alt. Versions for Japanese games. We will show you soon some great stuff to collect ;)


| | |
| --- | --- |
| Author: Madroms | Sun Jul 17, 2011 - 01:44 pm |

After only 1 week, we already have some submissions from our members F1ReB4LL and pxl.

F1ReB4LL helped us on the Sega Saturn Revisions by adding some new games and some new revisions he found for these titles, all Japanese:
DX Jinsei Game
Fighting Vipers
J.League Pro Soccer Club wo Tsukurou! 2
Nippon Daihyou Team no Kantoku ni Narou! Sekaihatsu Soccer RPG
Pro Yakyuu Team mo Tsukurou!
Street Fighter Zero
Super Robot Taisen F

He also helped us by filling some missing serial numbers on the Data Collection.

pxl helped us on the Sega Saturn Minor Revisions / Alt. Versions, notably on the Plastic EU Case games.

Thanks to both of them. Keep sending data! ;)


And myself:
I added an alternate manual for the european version of Casper
I replaced the serial number of the south Korean version of Daytona USA
I filled some missing serial numbers on the Data Collection


| | |
| --- | --- |
| Author: Madroms | Sat Jul 09, 2011 - 05:10 pm |