▶ SEGA SATURN DATABASES
★ SEGA SATURN GAMES
★ SEGA SATURN DEMOS
★ SEGA SATURN CONSOLES
★ SPECIAL SEARCH
Saturn Games and Demos
▶ GAME BASIC DATABASE
▶ DEZAEMON 2 DATABASE
Find the Best Auctions
▶ SEGA SATURN STORE
★ SEGA SATURN STORE GAMES
★ SEGA SATURN STORE DEMOS
★ VIDEO GAME STORE
Sega, Nintendo, SNK, NEC, Atari, Bandai, Sony, Microsoft, Etc.
FAQ and Tips
FAQ et Astuces
▶ HOTTEST AUCTIONS
★ SEGA SATURN AUCTIONS
★ SEGA DREAMCAST AUCTIONS
▶ SISTER CHANNELS
★ TOY STORE
Lego®, Playmobil®, K'Nex, Tobot, Hot Wheels, Micro Machines, Etc.
★ SEXY LINGERIE STORE
★ EBAY COUPONS AND DEALS
FRENCH REVIEWS






SGB Forums
SEGA-Mag
Megaoldies
SEGA-Legacy
SegaXtreme

Our banner:

Sega Saturn News (Archive)
- Page 19

Merry Christmas to all of you!

Not a lot of updates this year because a new version of the site is being developed. As the time goes by, there are more and more stuff added to it. It is time to open it to users, but not widely for the moment as it is still a beta.

If you want to try the new version of the site before everyone else, just send me a message by using the contact form. Next, I will choose some of you, randomly (or not).

See ya!

| | |
| --- | --- |
| Author: Madroms | Sat Dec 25, 2010 - 11:54 pm |

Our contact form was broken for 2 weeks. For those who sent us a message, please resend them. Sorry for that.
I updated the code of the contact form and all the things work now.
| | |
| --- | --- |
| Author: Madroms | Tue Jun 29, 2010 - 06:56 pm |

おはようございます、

Comme promis (chose rare), voici donc 2 nouvelles reviews, la seconde nous est offerte par Asta la super star:

- Dead-or-Alive
- Sega-Touring-Car-Championship-

That's all folks!

新潟の辺りにセガサターンファンはいないだろうか?ちょっと孤独を感じてますなあ。。。

さらばだ!
| | |
| --- | --- |
| Author: Murazame | Sun Mar 21, 2010 - 06:32 pm |

Hell'O,

Malgré l'absence de news de façon plus régulière, sachez qu'on continue de bosser pour le site, mais dans l'ombre.
Pour patienter jusqu'à la prochaine grosse update de la database, voici donc deux modestes reviews qui seront suivies par deux autres en fin de semaine:

- Super-Tempo
- My-Best-Friends-St.-Andrew-Jogakuin-Hen-

Vous aurez noté que la seconde rentre dans le cadre de la récente ligne éditoriale imposée par Madroms qui consiste à montrer + de fesses afin de + coller à l'image de la Saturn (et attirer + de monde, provisoirement...).
(:D_


You may have also already noticed that a staff section has been added. Nothing important though, just to let you know a little more about us.


日本人の方もご協力及び応援をお願い致しますね。

| | |
| --- | --- |
| Author: Murazame | Mon Mar 15, 2010 - 06:37 am |

Happy New Year to every Saturn fans out there!

Here is a little present for you: Otamajakushi


Otamajakushi is a little game developped by CRI in 1997.
This is a Tetris-like with tadpoles (Otamajakushi means Tadpole in Japanese).
It has 3 modes:
- classic 1P Vs. CPU
- Nitezume mode which is a puzzle mode where you need to free the screen in a limited number of drops.
- Demo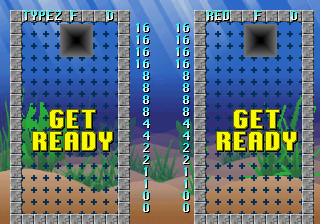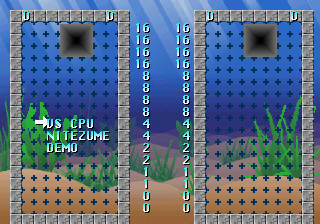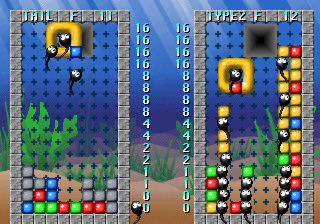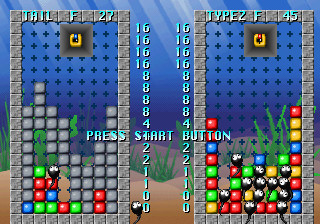 The manual is included in .BMP files.

This game was available in a Japanese Sega Saturn demo disc and I thought it will be great to make a standalone release of it.

Thanks to vbt for his great help (I just forgot to modify one address to let it works ;) Shame on me :D)


Grab it here: Download Otamajakushi for Sega Saturn


I could make more releases in the future if this one gets some interest.


See you soon with a major update to the database.

| | |
| --- | --- |
| Author: Madroms | Fri Jan 01, 2010 - 12:07 pm |