▶ SEGA SATURN DATABASES
★ SEGA SATURN GAMES
★ SEGA SATURN DEMOS
★ SEGA SATURN CONSOLES
★ SPECIAL SEARCH
Saturn Games and Demos
▶ GAME BASIC DATABASE
▶ DEZAEMON 2 DATABASE
Find the Best Auctions
▶ SEGA SATURN STORE
★ SEGA SATURN STORE GAMES
★ SEGA SATURN STORE DEMOS
★ VIDEO GAME STORE
Sega, Nintendo, SNK, NEC, Atari, Bandai, Sony, Microsoft, Etc.
FAQ and Tips
FAQ et Astuces
▶ HOTTEST AUCTIONS
★ SEGA SATURN AUCTIONS
★ SEGA DREAMCAST AUCTIONS
▶ SISTER CHANNELS
★ TOY STORE
Lego®, Playmobil®, K'Nex, Tobot, Hot Wheels, Micro Machines, Etc.
★ SEXY LINGERIE STORE
★ EBAY COUPONS AND DEALS
FRENCH REVIEWS
SGB Forums
SEGA-Mag
Megaoldies
SEGA-Legacy
SegaXtreme
Our banner:

Sega Saturn News (Archive)
- Page 18
What happens when you will reach level 50 ?
More Power ?
More Health ?
More Magic ?
New Item ?

Who knows. A little effort and you will see ;)


From a collector's point of view, having a complete collection is sometimes a goal. Everybody has a different definition of what a complete collection is. It could be: all the games released, all the games released and their variations, all the games and not for sale titles, etc.

A lot of Saturn collectors try to get a complete collection of games released in the US. Games only, not demos. Ok, it is not so difficult to achieve. Then, sometimes, the collection goes a little further than that.

Working Designs is well known in the US to have released some beautiful packages and translations of Japanese games. On the Saturn, they did the same. Particularly, they made some alternate versions for 3 games: Albert Odyssey released with 2 different CD artworks (and a revision of its manual), Magic Knight Rayearth released with 3 different CD artworks and Dragon Force released with no less than 4 different CD artworks and 3 different Backup RAM Cartridge stickers.
This is enough for collectors to try getting all of these alternative versions.


The best for you, Saturn collectors, is to know what to look for and we, at satakore.com, try to help you.

You can already see what the Magic Knight Rayearth CD artworks look: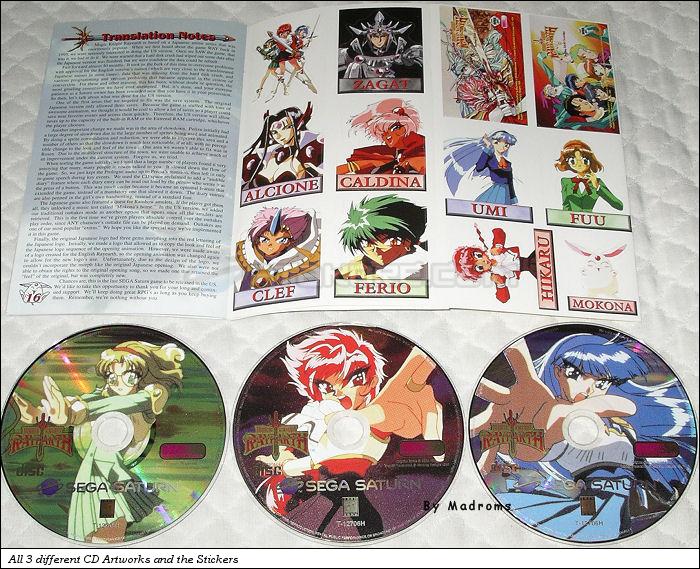 Same goes for Dragon Force: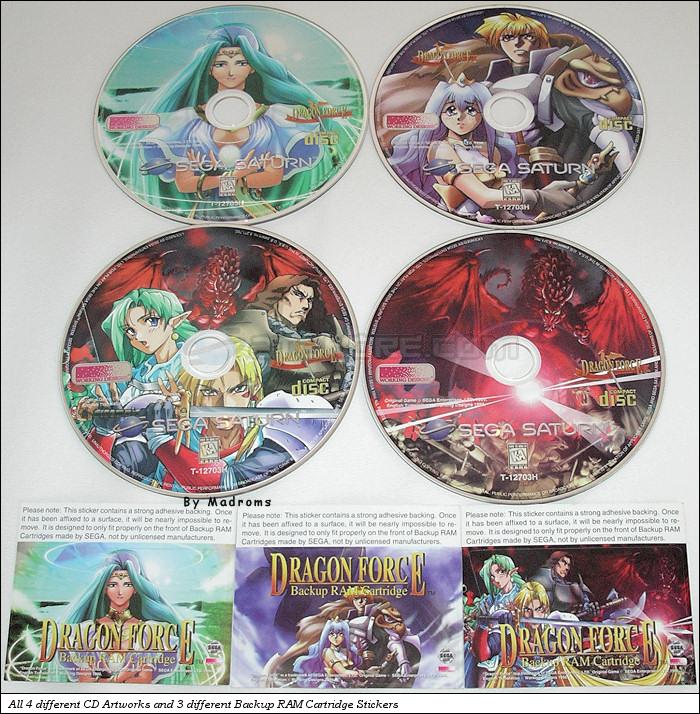 (Albert Odyssey will come soon).


Great, isn't it ?
But having the possibility to track down these Alternative Versions is better. This is what we thought. And this is why you can also manage this part of your collection at Satakore.com! Browse directly to The Minor Revisions / Alt. Versions page to see all the games and demos that could be managed this way.


And just for our US Collectors, here is a less known alternative version, for the Not For Sale 3 Free Games Pack:



There are also some Alt. Versions for Japanese games. We will show you soon some great stuff to collect ;)


After only 1 week, we already have some submissions from our members F1ReB4LL and pxl.

F1ReB4LL helped us on the Sega Saturn Revisions by adding some new games and some new revisions he found for these titles, all Japanese:
DX Jinsei Game
Fighting Vipers
J.League Pro Soccer Club wo Tsukurou! 2
Nippon Daihyou Team no Kantoku ni Narou! Sekaihatsu Soccer RPG
Pro Yakyuu Team mo Tsukurou!
Street Fighter Zero
Super Robot Taisen F

He also helped us by filling some missing serial numbers on the Data Collection.

pxl helped us on the Sega Saturn Minor Revisions / Alt. Versions, notably on the Plastic EU Case games.

Thanks to both of them. Keep sending data! ;)


And myself:
I added an alternate manual for the european version of Casper
I replaced the serial number of the south Korean version of Daytona USA
I filled some missing serial numbers on the Data Collection


Welcome to the new version of Satakore.com - The Ultimate Sega Saturn Source

The site is still in beta, but it is now online for all of you, after so much work and so much time spent on it :D

First of all, really thanks to all of our beta testers: DemonKN, gilles_sat, infernalcombustion, pxl, Shaolinsoul, sheath, sonix, Stuart36, synbiosfan and Yart (registered) plus Drury and rorirub (not registered).


So, among the innovations:
whole site coded in UTF-8
whole site recoded for better optimisation
New host for better experience in browsing
The Host is now fully compatible with IPv6
Privacy Policy + Terms and Conditions added (links at the bottom). Please read them as you need to accept them to use Satakore.com
Each page has now its own counter (on the right)
QR Code added for our Smartphone addicts ;)
The Database has been updated:

Some new games added (more than 24)
Some new demos added (more than 9)
Ability to search by Japanese and Korean titles
Displaying alternate Serial Numbers in the search results
Displaying alternate Japanese and Korean titles in the search results
Better overall presentation
All the Japanese titles have been checked and revised if necessary
Sega Saturn "Best of Games" modified and now maintained by Murazame
Adding some new information to each entry:

Revised Hepburn (Hebon-shiki) romanization for every Japanese titles (if different than WordPro romanization)
Nippon-shiki romanization for every Japanese titles (if different than WordPro romanization)
Kunrei-shiki romanization for every Japanese titles (if different than WordPro romanization)
Alternate Titles for some Japanese titles
Translated Titles for some Japanese titles
Languages found on the back cover, especially for European games
Languages found in the manual, especially for European games
"Alt. Versions" revised
"From the Same Series" added
Special Konami serial numbers have been added
Jasrac serial numbers have been added
Data Collection added: list of every items found on each games/demos (manual, back cover, case, spincard, regcard, goodies,...) + their serial numbers if available (like for games released by Sega). That was a HUGE work to do!
List of Revisions (v1.000, v1.001, v2.000,...) with all the data to identify them (header data, cd data,...)
And many more...

MySatakore.com is online:

Register as a member
Manage your profile
Change the background color of the site (maybe you will be able to have complete new templates in the future)
Manage your collection for each game/demo in Standard Mode: just manage your games and demos easily. You will have to define the completion of the game/demo as a whole.
Manage your collection for each game/demo in Full Mode: if you want to manage all the items in your collection. You will have to define the completion of your game/demo for EVERY items that make the game/demo complete, like CD, Manual, Case, Back Cover, Spincard, Regcard, etc.
We are the only Sega Saturn website, and probably the only videogame website on all the Internet, that let you manage your collection with so much details: you can manage EVERY items of every games. This is not just a list of cover/manual/disc computed automatically but a list made by me by checking manually every games and demos. Right now, there are more than 14 300 items and their associated serial numbers listed on satakore.com, just for the Sega Saturn.
Manage your collection: check the state of your collection directly on the search result
Manage your collection: check your stats directly on the database
Check who has which game
Manage your collection of Revisions and check who have them
Manage your collection of Minor Revisions and check who have them
Manage your collection of Promo Sleeves and check who have them
Check other members' collection (if they let you see them) and their stats
You can rate every games and demos
You can see on the search engine and on each game's page the average ratings given by Satakore.com members
You can see on the search engine the ratings given by satakore.com members

And many more...
Some works need to be completed, like adding a lot of new pictures, infos and other things. This will be for future updates ;)

Enough talk, have fun with this new version!





Delisoba Deluxe is one of the most sought after "not for sale" title on the Sega Saturn and probably the most well known.

It is not the most expensive title (2-3 other titles are more expensive than Delisoba Deluxe) but nevertheless it fetches high price on the market. If you are lucky enough, you can find it complete in mint condition for about 450-500 Euros (55 000 Yens / 700 USD as of today) but you have more chance to find it for more, likely 750 Euros (85 000 Yens / 1 000 USD).

It is also not the rarest title of the Sega Saturn library. Despite its value, you can find it quite easily in Japan. On the "rarest scale", you can count more than 15 titles (games and not for sale titles) that are more difficult to get. As always, expensive does not mean rare.


Delisoba Deluxe (which stands for Deliver Soba), developped by Cave, is a "game" given away at the Tokyo Friend Park II TV-show made by TBS (Tokyo Broadcasting System). In this show, contestants have to complete a certain amount of mini-games, one of them being Delisoba. This is "a two player game in which one player races to checkpoints in a video game to deliver soba in a set amount of time, while the other sits at the back and holds the soba to be delivered. If the player crashes into an obstacle in the game, the players on the seat will also feel the impact and drop the delivery they are holding, simulating what occurs in the video game" (description found on the internet on different websites, original publisher unknown).
Delisoba Deluxe for Sega Saturn is the remake of this mini-game.

Some years later, the Delisoba mini-game has been updated and has been named Delisoba Gold. Here is the official page at http://www.tbs.co.jp/tfp2/atr_soba.html

You can find some videos of the actual TV-show on Youtube. Here are 2 of them showing Delisoba mini-game:
- Delisoba
- Delisoba Gold



For the first time on the internet (in my knowledge), here are some screenshots and a video (Youtube + downloadable high quality) showing Delisoba Deluxe in action: https://www.satakore.com/sega-saturn-demo,,610-6803,,Delisoba-Deluxe-JPN.html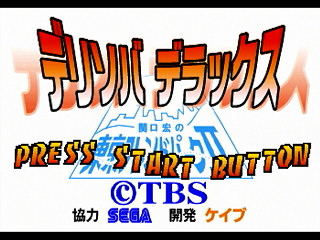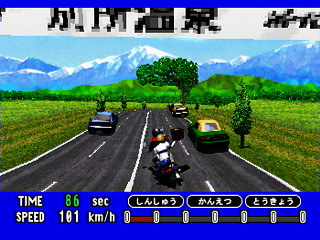 This is probably a big news for a lot of you, and I am happy to share this. But I assure you, you must wait for something BIGGER in some weeks ;) For now, enjoy the show!