▶ SEGA SATURN DATABASES
★ SEGA SATURN GAMES
★ SEGA SATURN DEMOS
★ SEGA SATURN CONSOLES
★ SATURN SPECIAL SEARCH
Saturn Games and Demos
▶ GAME BASIC DATABASE
▶ DEZAEMON 2 DATABASE
Find the Best Auctions
▶ SEGA SATURN STORE
★ SEGA SATURN STORE GAMES
★ SEGA SATURN STORE DEMOS
★ VIDEO GAME STORE
Sega, Nintendo, SNK, NEC, Atari, Bandai, Sony, Microsoft, Etc.
FAQ and Tips
FAQ et Astuces
▶ HOTTEST AUCTIONS
★ SEGA SATURN AUCTIONS
★ SEGA DREAMCAST AUCTIONS
▶ SISTER CHANNELS
★ TOY STORE
Lego®, Playmobil®, K'Nex, Tobot, Hot Wheels, Micro Machines, Etc.
★ SEXY LINGERIE STORE
★ EBAY COUPONS AND DEALS
FRENCH REVIEWS
SGB Forums
SEGA-Mag
Megaoldies
SEGA-Legacy
SegaXtreme
Our banner:

Sega Saturn Game Information
Alien Trilogy
エイリアントリロジー
T-8113G
Alien Trilogy (エイリアントリロジー) is a First Person Shooter game, developed by Probe Entertainment, Inc., which was released in Japan in 1996 for the Sega Saturn.
Developer:
Probe Entertainment, Inc.
Box / Packaging:
Standard CD Case
| | |
| --- | --- |
| Age Rating: | |
| Barcode(s): | Official Barcode |
Peripheral(s) Compatibility:
Unknown
External Cartridge Required:
None
Compatible with VideoCD Card:
Unknown
Sega Saturn Hardware Compatibility
Language(s)
| | |
| --- | --- |
| In Game | Unknown |
| In the Manual | |
| On the Back Cover | |
| Playability for non-japanese people | Unknown |
Usage of Memory Backup:
Unknown
Minimum Memory Required:
Unknown
Type of Video Files:
Unknown
Type of Sound and Music Files:
Unknown
Omake / Bonus(es) on CD:
Unknown

List of games and demos with Omake / Bonus(es)
---
---
From the Same Series
None
---
---
Who has it? / Who is looking for it?
---
---
---
Top :: Bottom Multimedia Data
Picture of the Actual Game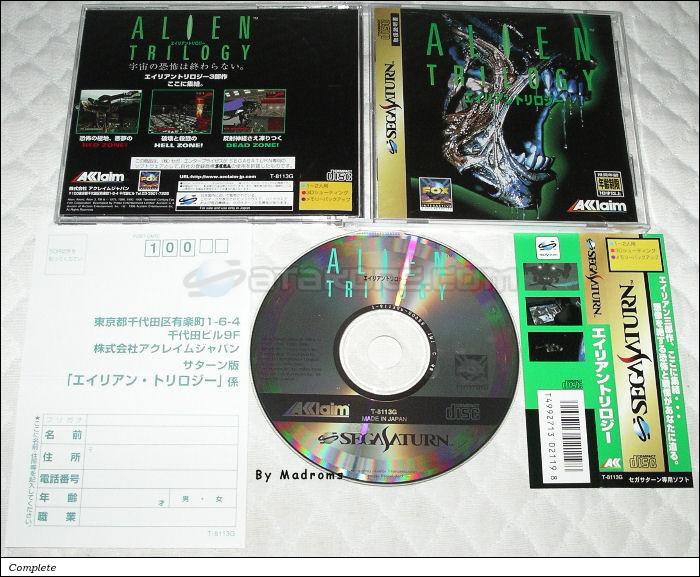 ---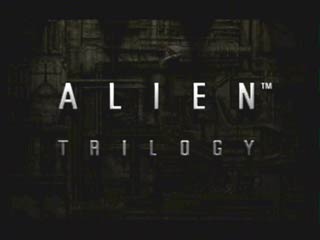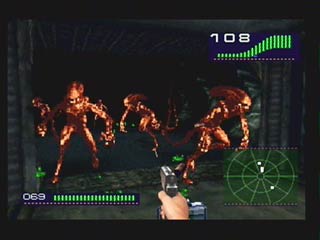 ---
---
Review:
French Review Available Here
After her platoon of fellow marines are wiped out in an Alien ambush, Lt. Ripley is left to defend colony LV246 from the terrifying, egg-laying Aliens. Using a combination of text and CGI cutscenes from the first 3 Alien movies, follow Ripley as she makes her way through 30 Alien filled levels, facing 3 Queen Aliens, while arming her with a variety of lethal weapons. But Ripley's not only facing Face Huggers, Chest Bursters, Dog and Adult Aliens, you never know if the Company has your best interests in mind!

Alien Trilogy is a first-person 3D shooter of the run and gun variety. The sometimes bland, repetitive environments range from creepy to futuristic to claustrophobic forcing you to sit on the edge of your seat often. Going for 100% kills will have exploring every section as there's often one Alien hidden away somewhere. The controls are perfectly suited for the Saturn pad allowing for a quick comfort level while using them. Alien Trilogy is a fun, decent shooter and if you're a fan of the Alien franchise, you should check it out!
Top :: Bottom Tips, Tricks, Cheats and Walkthroughs
Untested:
All weapons:
Password: F1SH1NGFORGVNS
Unlimited ammunition:
Password: F1LLMYPOCK1TS
Invincibility:
Password: FVNKYG1BB0N
Level select:
Password: FLYTOxx (where "xx" is the number of the desired level between 00 to 34)
GAMES and TOOLS
The Sega Saturn Database is the master list of all the games and demos that have been released for the Sega Saturn. More than a single list, it is a full database with a lot of informations provided for each entry.
---