▶ SEGA SATURN DATABASES
★ SEGA SATURN GAMES
★ SEGA SATURN DEMOS
★ SEGA SATURN CONSOLES
★ SATURN SPECIAL SEARCH
Saturn Games and Demos
▶ GAME BASIC DATABASE
▶ DEZAEMON 2 DATABASE
Find the Best Auctions
▶ SEGA SATURN STORE
★ SEGA SATURN STORE GAMES
★ SEGA SATURN STORE DEMOS
★ VIDEO GAME STORE
Sega, Nintendo, SNK, NEC, Atari, Bandai, Sony, Microsoft, Etc.
FAQ and Tips
FAQ et Astuces
▶ HOTTEST AUCTIONS
★ SEGA SATURN AUCTIONS
★ SEGA DREAMCAST AUCTIONS
▶ SISTER CHANNELS
★ TOY STORE
Lego®, Playmobil®, K'Nex, Tobot, Hot Wheels, Micro Machines, Etc.
★ SEXY LINGERIE STORE
★ EBAY COUPONS AND DEALS
FRENCH REVIEWS
SGB Forums
SEGA-Mag
Megaoldies
SEGA-Legacy
SegaXtreme
Our banner:

Sega Saturn Game Information
Game Tengoku ~The Game Paradise!~
ゲーム天国
T-5712G
Game Tengoku ~The Game Paradise!~ (ゲーム天国) is a Shoot-em-up game, published by JALECO, which was released in Japan in 1997 for the Sega Saturn.

Japanese Exclusive Release
Box / Packaging:
Standard CD Case
Number of Players:
1~2 (Simultaneous)
| | |
| --- | --- |
| Age Rating: | |
| Barcode(s): | Official Barcode |
Peripheral(s) Compatibility:
Unknown
External Cartridge Required:
None
Compatible with VideoCD Card:
Unknown
Sega Saturn Hardware Compatibility
Language(s)
| | |
| --- | --- |
| In Game | Unknown |
| In the Manual | |
| On the Back Cover | |
| Playability for non-japanese people | Unknown |
Usage of Memory Backup:
Unknown
Minimum Memory Required:
Unknown
Type of Video Files:
Unknown
Type of Sound and Music Files:
Unknown
Omake / Bonus(es) on CD:
Unknown

List of games and demos with Omake / Bonus(es)
---
---
From the Same Series
None
---
---
Who has it? / Who is looking for it?
---
---
---
Top :: Bottom Multimedia Data
Picture of the Actual Game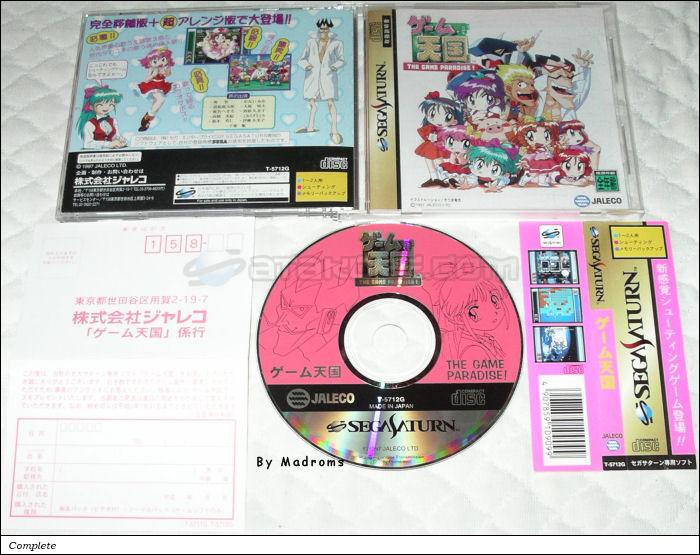 ---
---
Video(s) Made and Recorded by Azath
---
Review:
Who doesn't love a good shmup? Button mash and kill. The Saturn is loaded with an unmatched array of shmups from the vertical to the horizontal, and Game Tengoku fits in perfectly with the best of them, and offers both formats for you to choose from.

Presented nicely with a good color pallet that isn't too drenched in pastels, and nice audio that isn't too J-Pop, Game Tengoku is a solid game from beginning to end. You'll battle your way through arcades, arcade machines, raceways, space and finally the highly vaunted 32bit CPU Captured arena which is nothing short of amazing and totally retro.

Although the game is severely lacking in the weapons department, it makes up for it with the wide range of enemies and bizarre landscapes throughout. Some of the things in this shmup I've never seen done before which are really amazing. NO SPOILERS!!!

Although short, the 6 levels it does have are very well done, and you are offered unlimited continues so the focus is shifted to high scores instead of game completion. Overall an excellent shmup!
Top :: Bottom Tips, Tricks, Cheats and Walkthroughs
GAMES and TOOLS
The Sega Saturn Database is the master list of all the games and demos that have been released for the Sega Saturn. More than a single list, it is a full database with a lot of informations provided for each entry.
---