▶ SEGA SATURN DATABASES
★ SEGA SATURN GAMES
★ SEGA SATURN DEMOS
★ SEGA SATURN CONSOLES
★ SPECIAL SEARCH
Saturn Games and Demos
▶ GAME BASIC DATABASE
▶ DEZAEMON 2 DATABASE
Find the Best Auctions
▶ SEGA SATURN STORE
★ SEGA SATURN STORE GAMES
★ SEGA SATURN STORE DEMOS
★ VIDEO GAME STORE
Sega, Nintendo, SNK, NEC, Atari, Bandai, Sony, Microsoft, Etc.
FAQ and Tips
FAQ et Astuces
▶ HOTTEST AUCTIONS
★ SEGA SATURN AUCTIONS
★ SEGA DREAMCAST AUCTIONS
▶ SISTER CHANNELS
★ TOY STORE
Lego®, Playmobil®, K'Nex, Tobot, Hot Wheels, Micro Machines, Etc.
★ SEXY LINGERIE STORE
★ EBAY COUPONS AND DEALS
FRENCH REVIEWS






SGB Forums
SEGA-Mag
Megaoldies
SEGA-Legacy
SegaXtreme

Our banner:

Sega Saturn Game Information
Keio Flying Squadron 2
T-6008H-50
Keio Flying Squadron 2 is an Action - Platform game, published by VICTOR ENTERTAINMENT, which was released in Europe in 1997 for the Sega Saturn.
---
Alt. title: Keiou Yuugekitai ~Katsugeki-hen~ (Japan)
Publisher:
VICTOR ENTERTAINMENT
Box / Packaging:
Standard EU Case
Age Rating:
Barcode(s):

Official Barcode

Barcode

Unknown

Barcode
Peripheral(s) Compatibility:
Control Pad
External Cartridge Required:
None
Compatible with VideoCD Card:
No
Sega Saturn Hardware Compatibility
Language(s)
| | |
| --- | --- |
| In Game | Text |
| In the Manual | |
| On the Back Cover | |
Game Ratings
Satakore User Rating

8.875 / 10

8 Ratings

Sega Saturn Magazine (UK)
78 %
Consoles+ (Fr)
86 %
JoyPad (Fr)
86 %
MegaForce (Fr)
72 %
Player One (Fr)
82 %
Usage of Memory Backup:
Yes
Minimum Memory Required:
1
Type of Backup:
Game Progress (Continue + Bonuses)
Type of Video Files:
MVS Proprietary Format
Type of Sound and Music Files:
Unknown
Omake / Bonus(es) on CD:
None

List of games and demos with Omake / Bonus(es)
---
Alt. Versions
2 Entries
---
From the Same Series
None
---
Data Collection
7 Items
| # | Item | Internal Code / Catalog |
| --- | --- | --- |
| 1 | CD | 670-8982-50 |
| 2 | Standard EU Case | None |
| 3 | Manual | 672-3894-50 |
| 4 | Cover | 670-8983-50 |
| 5 | Australian Version (Sega Ozisoft): Sticker on the Front Cover (Age Rating), Sticker (Optional) and Barcode on the Back Cover (Optional) | ?? |
| 6 | Portuguese Version (Ecofilmes): Manual, Sticker on the Front Cover, Sticker and Barcode on the Back Cover (Optional) | STJVG0326 |
| 7 | French Version: Rigid Blister Pack (Optional) | ?? |
Any error or missing stuff? Please contact us
---
Who has it? / Who is looking for it?
---
Revisions
No known revision for this game
Any error or missing stuff? Please contact us
---
Variants / Minor Revisions / Alt. Versions
No known variant / minor revision / alt. version for this game
Any error or missing stuff? Please contact us
---
Promo Sleeves
No known promo sleeve for this game
Any error or missing stuff? Please contact us
Top :: Bottom Multimedia Data
Picture of the Actual Game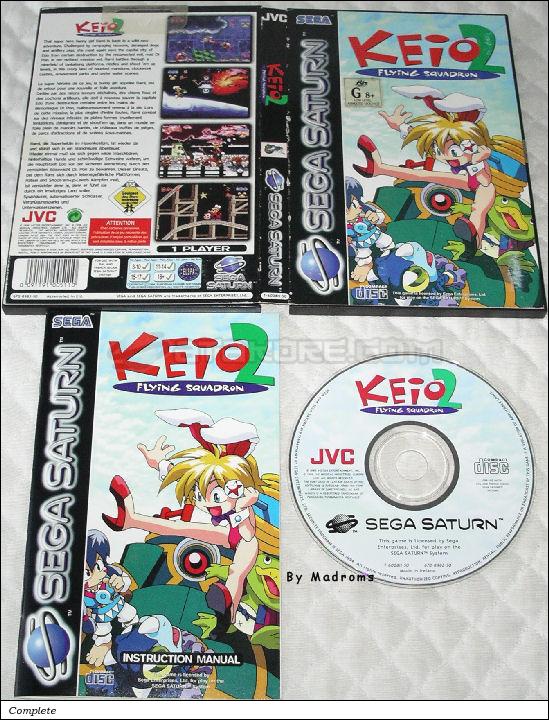 ---
No screenshot available - Want to help us?
---
3 External Videos
---
Review:
First off, who came up with the idea to combine a platformer and a shmup? Had to be the Japanese. Anyway, it works for the most part. Our sequel to the Sega CD gem Keio Flying Squadron, which ranks up there as one of the harder shmups, finds its way to the Sega Saturn thank you amen (and get a european release!).

This game is your typical Japanese eye-candy festival with loads of colors, thankfully not pastels, and plenty of gaming to be had. Graphically the game is quite impressive with the Saturn s-video cable clearing up most of the pixilated stuff leaving you with a crisp yet smooth image throughout. The levels are all well designed, and the music is another typical Japanese affair, but the game isn't without some flaws.

The control throughout the platforming levels seems to lag just a fraction of a second making you second guess your timing a lot. Whatever you do, don't change directions in mid-air unless you are prepared for some serious screen-scrolling back and forth. It takes a few minutes to get used to this, but once you do there doesn't seem to be any problem as long as you are prepared. The more you play, the less you'll notice it.

The shmup levels are what you'd expect from a Keio title and harken back to the Sega CD, but with less difficulty, which is fine since Keio Flying Squadron suffered from overkill in this department. The easiest way to ruin a game is to make it so difficult you can't get anywhere without cheating. On the other hand, making a game so easy a 5 year old can beat it in one sitting doesn't help either. The first few levels of Keio suffer from this, but the game gets progressively more difficult.

Overall Keio Flying Squadron 2 is a solid title covering both the platforming genre, and the shmup genre, which will surely satisfy fans of both.

There was also a bonus (Omake) disc of this released in a Japanese magazine which is quite rare.
Top :: Bottom Tips, Tricks, Cheats and Walkthroughs
© Copyright 2005 - 2023 Satakore.com