▶ SEGA SATURN DATABASES
★ SEGA SATURN GAMES
★ SEGA SATURN DEMOS
★ SEGA SATURN CONSOLES
★ SPECIAL SEARCH
Saturn Games and Demos
▶ GAME BASIC DATABASE
▶ DEZAEMON 2 DATABASE
Find the Best Auctions
▶ SEGA SATURN STORE
★ SEGA SATURN STORE GAMES
★ SEGA SATURN STORE DEMOS
★ VIDEO GAME STORE
Sega, Nintendo, SNK, NEC, Atari, Bandai, Sony, Microsoft, Etc.
FAQ and Tips
FAQ et Astuces
▶ HOTTEST AUCTIONS
★ SEGA SATURN AUCTIONS
★ SEGA DREAMCAST AUCTIONS
▶ SISTER CHANNELS
★ TOY STORE
Lego®, Playmobil®, K'Nex, Tobot, Hot Wheels, Micro Machines, Etc.
★ SEXY LINGERIE STORE
★ EBAY COUPONS AND DEALS
FRENCH REVIEWS
SGB Forums
SEGA-Mag
Megaoldies
SEGA-Legacy
SegaXtreme
Our banner:

Sega Saturn Game Basic Program Information
GBSS CD - Sound Alisia Dragoon Track 17 - Stage 7
Bits Laboratory / Game Arts
GBSSCD_S_ALISIA(17)
Homepage:
Unknown or None Available
Download File:
This program is available on the Game Basic for SegaSaturn CD
Top :: Bottom Multimedia Data
Screenshots Made by Madroms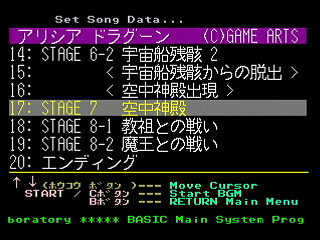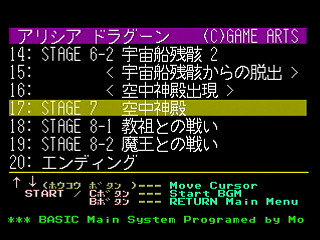 ---
Video(s) Made and Recorded by Madroms
---
GAME BASIC Programs Database
The Game Basic Database will become the master list of all the programs that have been developped for
Game Basic for Sega Saturn
. More than a single list, it is a full database with a lot of informations provided for each entry.
---