▶ SEGA SATURN DATABASES
★ SEGA SATURN GAMES
★ SEGA SATURN DEMOS
★ SEGA SATURN CONSOLES
★ SPECIAL SEARCH
Saturn Games and Demos
▶ GAME BASIC DATABASE
▶ DEZAEMON 2 DATABASE
Find the Best Auctions
▶ SEGA SATURN STORE
★ SEGA SATURN STORE GAMES
★ SEGA SATURN STORE DEMOS
★ VIDEO GAME STORE
Sega, Nintendo, SNK, NEC, Atari, Bandai, Sony, Microsoft, Etc.
FAQ and Tips
FAQ et Astuces
▶ HOTTEST AUCTIONS
★ SEGA SATURN AUCTIONS
★ SEGA DREAMCAST AUCTIONS
▶ SISTER CHANNELS
★ TOY STORE
Lego®, Playmobil®, K'Nex, Tobot, Hot Wheels, Micro Machines, Etc.
★ SEXY LINGERIE STORE
★ EBAY COUPONS AND DEALS
FRENCH REVIEWS






SGB Forums
SEGA-Mag
Megaoldies
SEGA-Legacy
SegaXtreme

Our banner:


Sega Saturn Store - Best Deals at the Lowest Price
Virtua Fighter 2 for sale
버쳐파이터2
GS-9507J / MK-81014-08
Virtua Fighter 2 (버쳐파이터2) is a Fighting 3D game, published by SAMSUNG, which was released in South Korea in 1995 for the Sega Saturn.
Top :: Bottom Game Information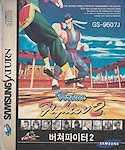 More information available on the game Database
Top :: Bottom Sega Saturn Store - Buy Sega Saturn Game
You will find below the best auctions and items available on eBay for this title. We already worked on the search keywords so you will get the best results right away. Check out the FAQ for more information on what our tool has to offer:
FAQ and Tips
-
FAQ et Astuces
Top :: Bottom Search Sega Saturn Store
© Copyright 2005 - 2023 Satakore.com