▶ SEGA SATURN DATABASES
★ SEGA SATURN GAMES
★ SEGA SATURN DEMOS
★ SEGA SATURN CONSOLES
★ SPECIAL SEARCH
Saturn Games and Demos
▶ GAME BASIC DATABASE
▶ DEZAEMON 2 DATABASE
Find the Best Auctions
▶ SEGA SATURN STORE
★ SEGA SATURN STORE GAMES
★ SEGA SATURN STORE DEMOS
★ VIDEO GAME STORE
Sega, Nintendo, SNK, NEC, Atari, Bandai, Sony, Microsoft, Etc.
FAQ and Tips
FAQ et Astuces
▶ HOTTEST AUCTIONS
★ SEGA SATURN AUCTIONS
★ SEGA DREAMCAST AUCTIONS
▶ SISTER CHANNELS
★ TOY STORE
Lego®, Playmobil®, K'Nex, Tobot, Hot Wheels, Micro Machines, Etc.
★ SEXY LINGERIE STORE
★ EBAY COUPONS AND DEALS
FRENCH REVIEWS
SGB Forums
SEGA-Mag
Megaoldies
SEGA-Legacy
SegaXtreme
Our banner:

Sega Saturn Dezaemon 2 Program Information
Dezaemon 2 Save Game Manager
デザエモン2 セーブゲームマネージャ
Madroms
d2sgm
Collaboration:
Rockin'B, vbt, IGK and the Dezaemoners community
Size of the Save File:
427 MB uncompressed for the ISO
---
From the Same Series
* * *
Dezaemon 2 Save Game Manager Series
Top :: Bottom Multimedia Data
Screenshots Made by Madroms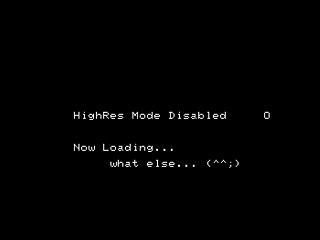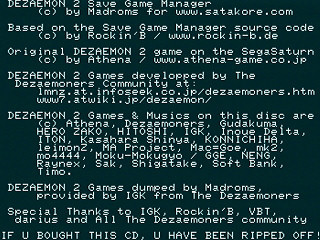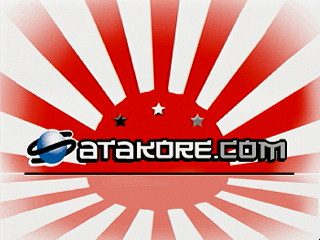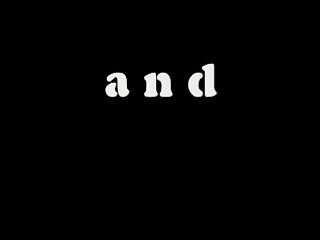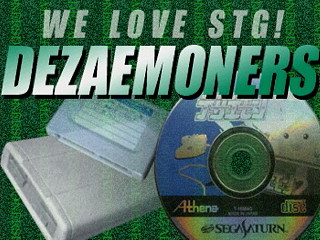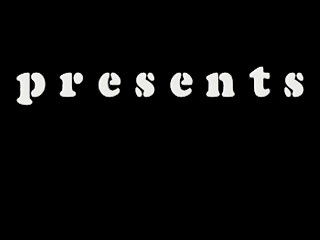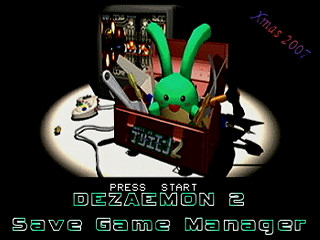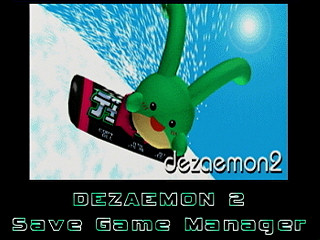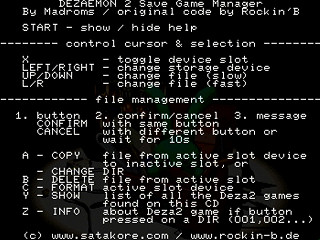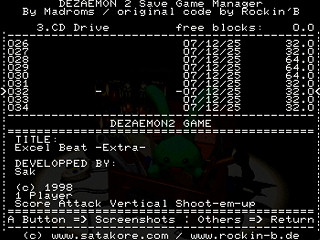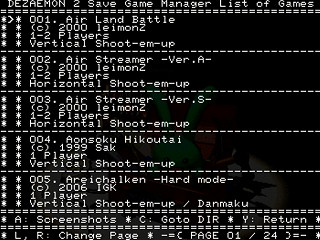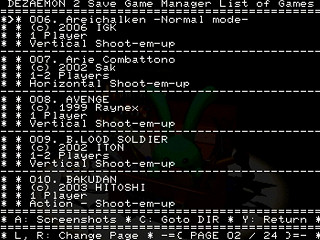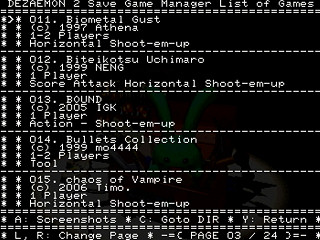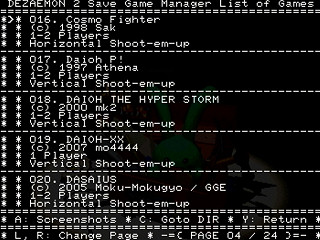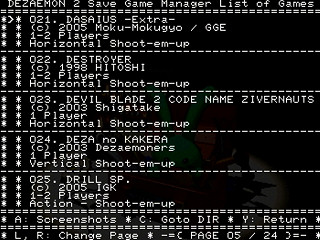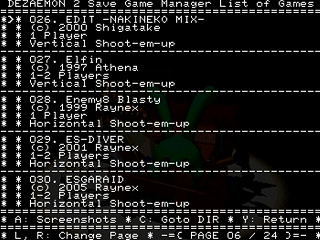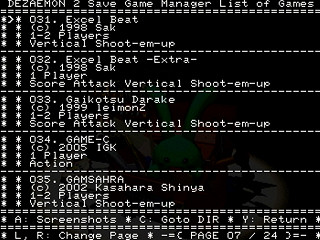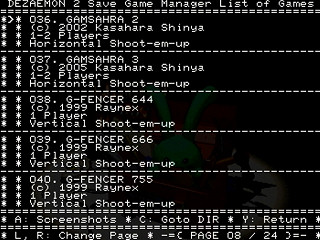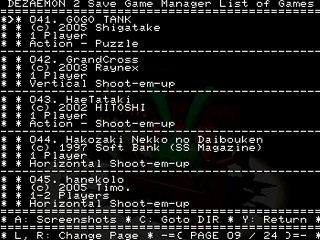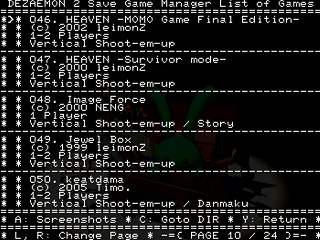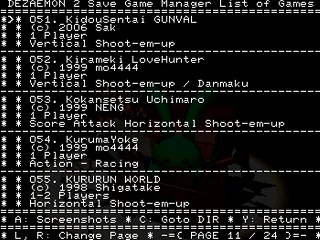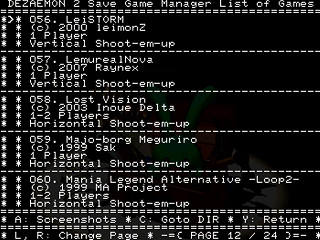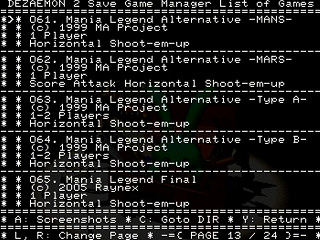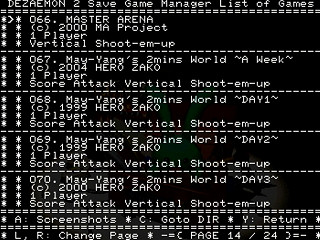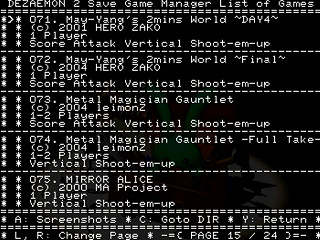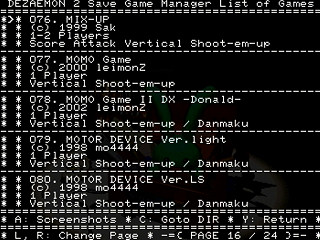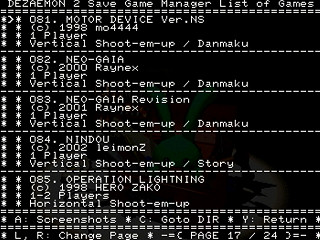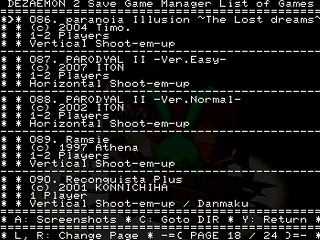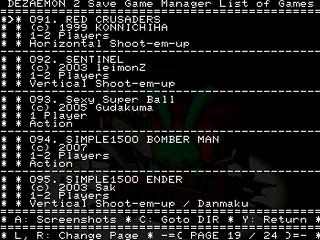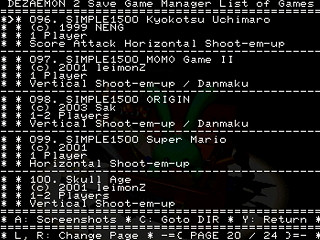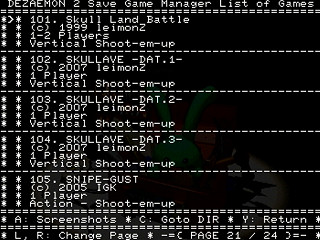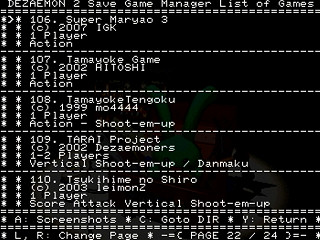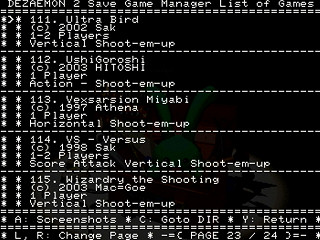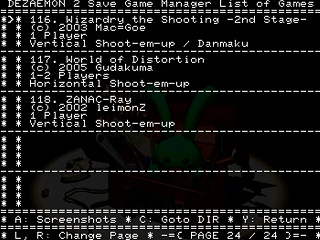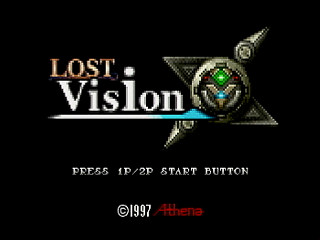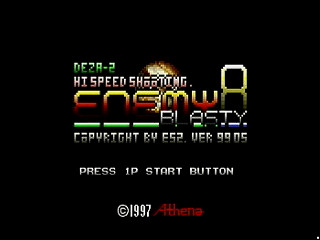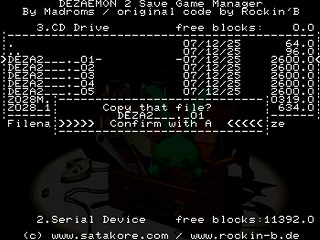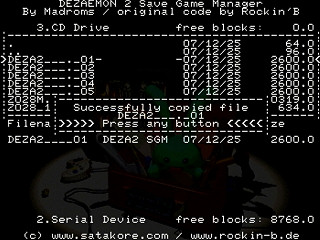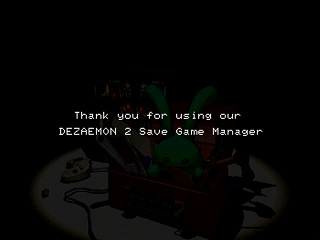 ---
Video(s) Made and Recorded by Madroms
Video Links:
On Youtube:
Part 1
---
Review:
The Dezaemon 2 Save Game Manager (D2SGM) allows you to copy Dezaemon 2 save game files from CD/Backup Cartridge/FDD to Backup Cartridge/FDD. It is a homebrew tool for the Sega Saturn (so you need a mod chipped saturn or need to perform the swaptrick, it also works on emulator like SSF), developped by Madroms and based on the sourcecode of the Rockin'B's Save Game Manager (
http://www.rockin-b.de
).
This program has been released for Christmas 2007 and contains 118 games for
Dezaemon 2
developped by Athena and released in 1997.
For each game, you can listen to one music sample and watch some screenshots. The D2SGM contains a total of 3032 screenshots/pictures and 178 music samples (about 1 hour and 54 minutes of music!).
Each game has 5 save game slots (named DEZA2___._01 to DEZA2___._05), all of them are the same. Just choose the one you want to copy. They are all recognized by Dezaemon 2 game (DEZA2___._01 = slot 1, and so on).
The D2SGM works on 352x240 resolution, so you need a RGB compatible TV to see all the lines on screen (info taken from the Sega Saturn programming doc). Else, try using the highres mode implemented (704x480 resolution) but I don't know if it resolves the problem.
The D2SGM must work on all Sega Saturn. I only tested it on EUR and JPN saturn with RGB cable on RGB compatible TV, and all works well.
I also made a video to let you see how it works, so don't forget to watch it ;)
This tool has been made with the help of:
- Rockin'B: thanks for your Save Game Manager and your advices
- vbt: thanks for your help on Saturn coding and your advices
- darius: thanks for the AR and PC COMMS Card
- IGK: really thanks for your help, your confidence and the beta tests you made
- all the members of The Dezaemoners community for their superb works
The Games and Musics that can be found on the D2SGM are copyrighted by Athena, Dezaemoners, Gudakuma, HERO ZAKO, HITOSHI, IGK, Inoue Delta, ITON, Kasahara Shinya, KONNICHIHA, leimonZ, MA Project, Mac=Goe, mk2, mo4444, Moku-Mokugyo / GGE, NENG, Raynex, Sak, Shigatake, Soft Bank, Timo.
Don't forget to visit the japanese Dezaemon Community websites (may be broken nowadays):
-
http://lmnz.at.infoseek.co.jp/dezaemoners.htm
-
http://www7.atwiki.jp/dezaemon/
Here is the list of games found on the Dezaemon 2 Save Game Manager
.
DEZAEMON 2 Games Database
The Dezaemon 2 Database will become the master list of all the games that have been developped with
Dezaemon 2 for the Sega Saturn
. More than a single list, it is a full database with a lot of informations provided for each entry.
This was made possible with the big help of the japanese Dezaemon Community:
The Dezaemoners
,
The dezaemon@Wiki
and all the great guys over there. Really thanks to all of them for sharing their splendid work with us.
---