▶ SEGA SATURN DATABASES
★ SEGA SATURN GAMES
★ SEGA SATURN DEMOS
★ SEGA SATURN CONSOLES
★ SATURN SPECIAL SEARCH
Saturn Games and Demos
▶ GAME BASIC DATABASE
▶ DEZAEMON 2 DATABASE
Find the Best Auctions
▶ SEGA SATURN STORE
★ SEGA SATURN STORE GAMES
★ SEGA SATURN STORE DEMOS
★ VIDEO GAME STORE
Sega, Nintendo, SNK, NEC, Atari, Bandai, Sony, Microsoft, Etc.
FAQ and Tips
FAQ et Astuces
▶ HOTTEST AUCTIONS
★ SEGA SATURN AUCTIONS
★ SEGA DREAMCAST AUCTIONS
▶ SISTER CHANNELS
★ TOY STORE
Lego®, Playmobil®, K'Nex, Tobot, Hot Wheels, Micro Machines, Etc.
★ SEXY LINGERIE STORE
★ EBAY COUPONS AND DEALS
FRENCH REVIEWS
SGB Forums
SEGA-Mag
Megaoldies
SEGA-Legacy
SegaXtreme
Our banner:

Sega Saturn Game Information
Worms
ワームス
T-22405G
Worms (ワームス) is a Simulation game, published by I'MAX, which was released in Japan in 1997 for the Sega Saturn.
Box / Packaging:
Standard CD Case
Number of Players:
Unknown
| | |
| --- | --- |
| Age Rating: | |
| Barcode(s): | Official Barcode |
Peripheral(s) Compatibility:
Unknown
External Cartridge Required:
None
Compatible with VideoCD Card:
Unknown
Sega Saturn Hardware Compatibility
Language(s)
| | |
| --- | --- |
| In Game | Unknown |
| In the Manual | |
| On the Back Cover | |
| Playability for non-japanese people | Unknown |
Usage of Memory Backup:
Unknown
Minimum Memory Required:
Unknown
Type of Video Files:
Unknown
Type of Sound and Music Files:
Unknown
Omake / Bonus(es) on CD:
Unknown

List of games and demos with Omake / Bonus(es)
---
---
From the Same Series
* * *
Worms Series
---
---
Who has it? / Who is looking for it?
---
---
---
Top :: Bottom Multimedia Data
Picture of the Actual Game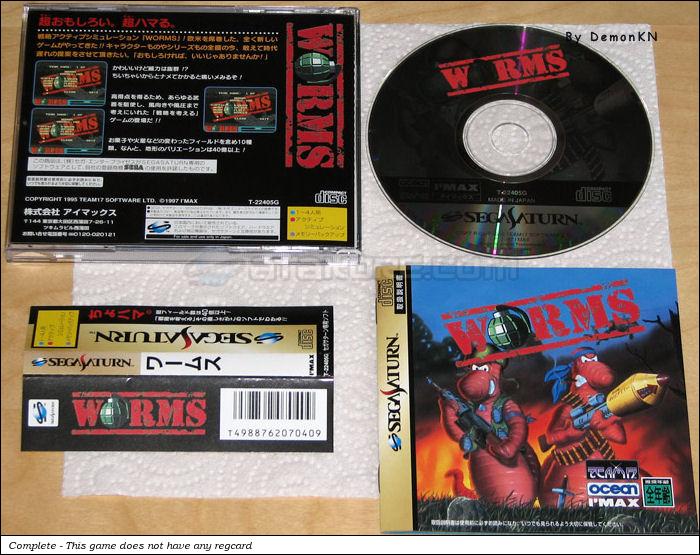 ---
---
---
Review:
Worms started out as a hack of the first, original Lemmings on the Amiga - and turned into one of the most popular games of the nineties. The premise is very simple. In a two dimensional, fully destroyable landscape, your goal is to destroy the opposing team(s) of worms in a turn-based fight, using a set arsenal of weapons and time limit. It's so simple that you can sum it up in one sentence, yet its still so much fun!

The main characters of the game are, if you didn't figure out by now, Worms. Armed to the teeth, battle ready, bloodthirsty worms. In the game these worms materialize in just a few pixels, yet still their animations are clear, detailed, and hilarious. These specks of pixels are combined with ridiculously cute, high-pitched cartoon voices, and react to all physical hurt in equally cartoony ways: the game is absolutely bloodless. In fact, one of the main lures of the game is its humor.

Every worm has its name and amount of remaining life displayed above his head, this number decreases accordingly every time a worm is physically abused, either by a bazooka hit or by falling off from extreme heights. Once this meter hits zero, a worm will self destruct, leaving an indestructible gravemark behind. Worms can also die if they fall in water, or are knocked out of the game field.

A variety of weapons are at your disposal for achieving any of these kill methods. This arsenal represents all kinds of imaginable weapon, ranging from bazookas and shotguns to exploding sheep. Some weapons are of course limited and hidden, and can be gained from periodic reinforcements, in the form of an ammo crate dropped in the playfield. These ammo crates are of course, highly explosive. So in case you can't reach an ammo crate, you may just want to blow it up, along with the enemy worm standing next to it. This can be combined with the mines placed in every level randomly, for extremely explosive results - provided your aim is good enough.

All weapons share distinct characteristics which you will need to master for effective gameplay. Bazookas are affected by wind and gravity for example, but uzi shots are not affected by either. Grenades are not affected by wind, but they rebound off walls, and they only explode after a few seconds (both affinities are selectable). These numerous weapon attributes add high levels to the gameplay, and are part of the games charm: beneath the extremely simple graphics and cartoony presentation lies an incredibly detailed strategy game. As an extra layer of strategy, you also have tools which allow you to lay down defensive girders, burrow into the ground in any direction, or bungee jump from extreme hights and land safely. You cannot play hide and seek forever though, as once the game time is spent, a "Sudden Death" mode is engaged, where every Worms life drops to 1 and even the tiniest scratch results in death.

Another important part of the presentation is the random level generator. No two games will be played on the same landscape, you have near infinite combinations to pick from - caves, open landscapes, hills, long bridges, and so on. But in case you do want to play on the same level, you can simply write down the level password the game provides. The battlefields are all themed, such as Hell, Alien or Beach, and feature very well drawn objects reminiscent of these themes. The landscape can offer natural protection to the opponents carnage, but this is limited as everything is fully destroyable. You can literally carpet bomb the excellent pixel art into vapor.

The game is also rich on options. Although it lacks the extreme customizations of the computer versions, you can still create your very own team, and set the amount of ammo you can use for weapons, among others. Noteworthy is the Banzai Mode where every explosion is as powerful as the Dynamite weapon (by far the most powerful in the game), or the action replay function, where parodic and impressive kills will be replayed by a camera.

Interestingly the game features ambient music, with many war-like events played in the background. This is another reason how Worms blends serious effects in a deadly ridiculous game. With tight and surprisingly easy to master controls, Worms is a comical, but very in-depth multiplayer party game, that can be enjoyed by up to 4 players - and as the game is turn based, you only need one controller! The multiplayer competition is further fueled by the incredibly detailed statistics the game composes for every team, all of these being saved into the backup memory. There's nothing bad that can be said about Worms, even if you dislike the cheesy presentation, you have a professionally made war game to enjoy. Worms is an excellent party game, best played in multiplayer.
Top :: Bottom Tips, Tricks, Cheats and Walkthroughs
GAMES and TOOLS
The Sega Saturn Database is the master list of all the games and demos that have been released for the Sega Saturn. More than a single list, it is a full database with a lot of informations provided for each entry.
---