▶ SEGA SATURN DATABASES
★ SEGA SATURN GAMES
★ SEGA SATURN DEMOS
★ SEGA SATURN CONSOLES
★ SPECIAL SEARCH
Saturn Games and Demos
▶ GAME BASIC DATABASE
▶ DEZAEMON 2 DATABASE
Find the Best Auctions
▶ SEGA SATURN STORE
★ SEGA SATURN STORE GAMES
★ SEGA SATURN STORE DEMOS
★ VIDEO GAME STORE
Sega, Nintendo, SNK, NEC, Atari, Bandai, Sony, Microsoft, Etc.
FAQ and Tips
FAQ et Astuces
▶ HOTTEST AUCTIONS
★ SEGA SATURN AUCTIONS
★ SEGA DREAMCAST AUCTIONS
▶ SISTER CHANNELS
★ TOY STORE
Lego®, Playmobil®, K'Nex, Tobot, Hot Wheels, Micro Machines, Etc.
★ SEXY LINGERIE STORE
★ EBAY COUPONS AND DEALS
FRENCH REVIEWS
SGB Forums
SEGA-Mag
Megaoldies
SEGA-Legacy
SegaXtreme
Our banner:

Sega Saturn Game Information
AMOK
アモック
T-7637G
AMOK (アモック) is an Action - Shooter game, developed by Lemon, which was released in Japan in 1997 for the Sega Saturn.
Box / Packaging:
Standard CD Case
| | |
| --- | --- |
| Age Rating: | |
| Barcode(s): | Official Barcode |
Peripheral(s) Compatibility:
Unknown
External Cartridge Required:
None
Compatible with VideoCD Card:
Unknown
Sega Saturn Hardware Compatibility
Language(s)
| | |
| --- | --- |
| In Game | Unknown |
| In the Manual | |
| On the Back Cover | |
| Playability for non-japanese people | Unknown |
Usage of Memory Backup:
Unknown
Minimum Memory Required:
Unknown
Type of Video Files:
Unknown
Type of Sound and Music Files:
Unknown
Omake / Bonus(es) on CD:
Unknown

List of games and demos with Omake / Bonus(es)
---
---
From the Same Series
None
---
---
Who has it? / Who is looking for it?
---
---
---
Top :: Bottom Multimedia Data
Picture of the Actual Game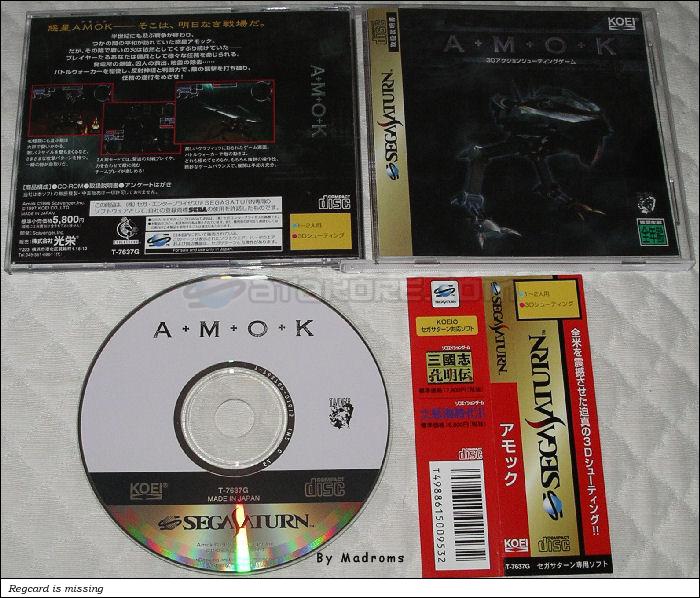 ---
---
---
Review:
French Review Available Here
Amok. Post-apocalyptical shmup. Face the world's vermine with your walker, locked and loaded for pure brutal action. Wether on earth or underwater, the action is simple: shoot and destroy wathever appears in front of you.
Game graphics are unfortunately a bit poor but the 4 full-surprised levels will make you stay tuned. And if you need more madness, ask a pal and go for the two players mode!
Top :: Bottom Tips, Tricks, Cheats and Walkthroughs
Untested:
Level Select:
Password: ZZZCYX
Invincibility:
Password: XBABYX
Your energy will decrease, but you can't loose lives.
Rapid Fire:
Password: YAYAYA
Bonus Mission:
Move south after completing the objectives in mission 1, phase 2.
In dead end canyon, enter the alternate exit to start a bonus underwater mission.
GAMES and TOOLS
The Sega Saturn Database is the master list of all the games and demos that have been released for the Sega Saturn. More than a single list, it is a full database with a lot of informations provided for each entry.
---