▶ SEGA SATURN DATABASES
★ SEGA SATURN GAMES
★ SEGA SATURN DEMOS
★ SEGA SATURN CONSOLES
★ SPECIAL SEARCH
Saturn Games and Demos
▶ GAME BASIC DATABASE
▶ DEZAEMON 2 DATABASE
Find the Best Auctions
▶ SEGA SATURN STORE
★ SEGA SATURN STORE GAMES
★ SEGA SATURN STORE DEMOS
★ VIDEO GAME STORE
Sega, Nintendo, SNK, NEC, Atari, Bandai, Sony, Microsoft, Etc.
FAQ and Tips
FAQ et Astuces
▶ HOTTEST AUCTIONS
★ SEGA SATURN AUCTIONS
★ SEGA DREAMCAST AUCTIONS
▶ SISTER CHANNELS
★ TOY STORE
Lego®, Playmobil®, K'Nex, Tobot, Hot Wheels, Micro Machines, Etc.
★ SEXY LINGERIE STORE
★ EBAY COUPONS AND DEALS
FRENCH REVIEWS






SGB Forums
SEGA-Mag
Megaoldies
SEGA-Legacy
SegaXtreme
Our banner:

Sega Saturn Game Information
Cotton 2
コットン 2
T-9904G
Cotton 2 (コットン 2) is a Shoot-em-up game, developed and published by Success, which was released in Japan in 1997 for the Sega Saturn.
---
Alt. title:
Magical Night Dreams Cotton 2 (Alt)
Number of Players:
1~2 (Simultaneous)
| | |
| --- | --- |
| Age Rating: | |
| Barcode(s): | Official Barcode |
Peripheral(s) Compatibility:
Unknown
Compatible with VideoCD Card:
Unknown
Sega Saturn Hardware Compatibility
Language(s)
| | |
| --- | --- |
| In Game | Unknown |
| In the Manual | |
| On the Back Cover | |
| Playability for non-japanese people | Unknown |
Usage of Memory Backup:
Unknown
Minimum Memory Required:
Unknown
Type of Video Files:
Unknown
Type of Sound and Music Files:
Unknown
Omake / Bonus(es) on CD:
Unknown

List of games and demos with Omake / Bonus(es)
---
---
From the Same Series
* * *
Cotton Series
---
---
Who has it? / Who is looking for it?
---
---
---
Top :: Bottom Multimedia Data
Picture of the Actual Game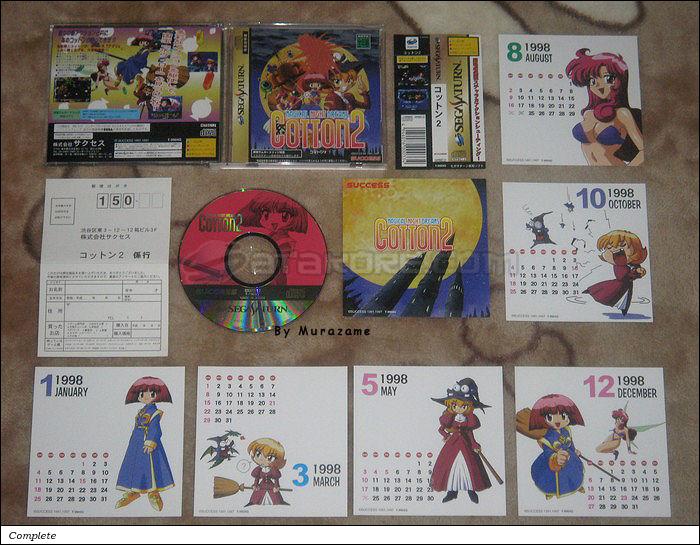 ---
---
---
Review:
French Review Available Here
Success really peaked with this release and hasn't come close since. Their horrid offering of Rainbow Cotton on the Dreamcast pretty much assured the planet that this series was all but dead which is very unfortunate because Cotton 2 is brilliant in every way. There are a few shmups that are absolutely perfect and this is one.

The color pallet is vivid yet not an overblown pastels affair which a lot of Japanese games suffer from. There's a point where cute turns into sickening and then just plain obnoxious, but thankfully this never happens at any point in Cotton 2.

The levels are very well laid out leaving you with a wide variety of attack directions and options. The weapons system is also fantastic with a nice selection of powerups throughout as well as the proverbial end-all weapons which do some serious damage.

Cotton 2 also offers a nice chain system that leaves the gamer with the option of building multiple chains for massive damage and serious scoring. The bosses are anywhere from moderate to difficult, and all require some thought and planning as well as skill to defeat.

The gamer is also offered a small break at the end of each level when it's TEA TIME!, and you get to catch and shoot the teabags that fall from the sky. Cotton 2 also has the option of utilizing a 1MB/4MB expansion upgrade via the cartridge port on the Saturn for extra eye-candy during the game. This is really something to behold on a nice tv with the Saturn's s-video cable.

Success really did a fantastic job with this title and it's a shame that the fun had to die on the Saturn. At least they gave us Cotton Boomerang as well!
Top :: Bottom Tips, Tricks, Cheats and Walkthroughs
GAMES and TOOLS
The Sega Saturn Database is the master list of all the games and demos that have been released for the Sega Saturn. More than a single list, it is a full database with a lot of informations provided for each entry.
---