▶ SEGA SATURN DATABASES
★ SEGA SATURN GAMES
★ SEGA SATURN DEMOS
★ SEGA SATURN CONSOLES
★ SPECIAL SEARCH
Saturn Games and Demos
▶ GAME BASIC DATABASE
▶ DEZAEMON 2 DATABASE
Find the Best Auctions
▶ SEGA SATURN STORE
★ SEGA SATURN STORE GAMES
★ SEGA SATURN STORE DEMOS
★ VIDEO GAME STORE
Sega, Nintendo, SNK, NEC, Atari, Bandai, Sony, Microsoft, Etc.
FAQ and Tips
FAQ et Astuces
▶ HOTTEST AUCTIONS
★ SEGA SATURN AUCTIONS
★ SEGA DREAMCAST AUCTIONS
▶ SISTER CHANNELS
★ TOY STORE
Lego®, Playmobil®, K'Nex, Tobot, Hot Wheels, Micro Machines, Etc.
★ SEXY LINGERIE STORE
★ EBAY COUPONS AND DEALS
FRENCH REVIEWS






SGB Forums
SEGA-Mag
Megaoldies
SEGA-Legacy
SegaXtreme
Our banner:

Sega Saturn Game Information
Sonic Jam (Satakore)
ソニック ジャム (サタコレ)
GS-9200
Sonic Jam (Satakore) (ソニック ジャム (サタコレ)) is a Compilation - Action game, published by Sega Enterprises, Ltd., which was released in Japan in 1998 for the Sega Saturn.
Box / Packaging:
Standard CD Case
Number of Players:
Unknown
| | |
| --- | --- |
| Age Rating: | |
| Barcode(s): | Official Barcode |
Peripheral(s) Compatibility:
Unknown
External Cartridge Required:
None
Compatible with VideoCD Card:
Unknown
Sega Saturn Hardware Compatibility
Language(s)
| | |
| --- | --- |
| In Game | Unknown |
| In the Manual | |
| On the Back Cover | |
| Playability for non-japanese people | Unknown |
Usage of Memory Backup:
Unknown
Minimum Memory Required:
Unknown
Type of Video Files:
Unknown
Type of Sound and Music Files:
Unknown
Omake / Bonus(es) on CD:
Unknown

List of games and demos with Omake / Bonus(es)
---
---
---
---
Who has it? / Who is looking for it?
---
Revisions
2 Confirmed Revisions
0 Unconfirmed Revision
Item
?
CD Matrix (Code)
CD Header (Version)
Taken From
Who has it?
CD

GS-9147P-01621
1.005
GS-9147 - Sonic Jam

Akira_Shin - F1ReB4LL - gilles_sat - SaturnHST - sunken

/ (Total: 5)

CD

GS-9147P-01621A
1.008
GS-9147 - Sonic Jam
CD

GS-9147P-01621A
1.008
GS-9200 - Sonic Jam (Satakore)

F1ReB4LL - saturn32

/ (Total: 2)
Any error or missing stuff? Please contact us
---
---
Top :: Bottom Multimedia Data
Picture of the Actual Game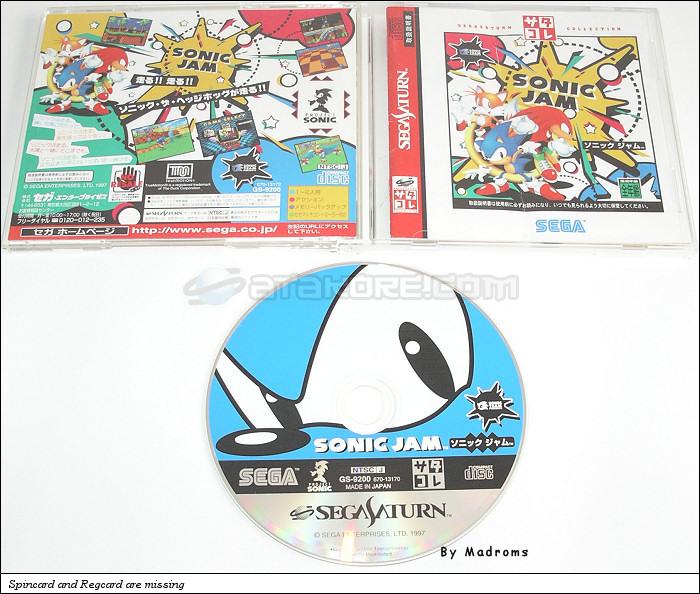 ---
---
---
Review:
French Review Available Here
At the first sight, Sonic Jam could be considered as an easy made Sonic compilation, this would be a mistake. It contains the fourth first installements of the series. The versions are extremely close to the original ones on every aspects. The devellopers didn't forget Sonic & Knuckles lock-on feature that allow you to combine the games together exactly in the same way as you did on your beloved Megadrive. Those four games are visually out of date to nowadays standards but can be considered as some "16-bit plateformer" references and looks really good if you are in the 2D thing especially according to their fluent animation. The added value of this disc consists in a 3D world which stands as a very complete museum about the saga, including commercials, digitalized instructions books & covers (shame on the occidental variations), a detailed timeline and some minigames to enjoy this 3D world.
Also note the magnificent packaging of the game.
Top :: Bottom Tips, Tricks, Cheats and Walkthroughs
GAMES and TOOLS
The Sega Saturn Database is the master list of all the games and demos that have been released for the Sega Saturn. More than a single list, it is a full database with a lot of informations provided for each entry.
---