▶ SEGA SATURN DATABASES
★ SEGA SATURN GAMES
★ SEGA SATURN DEMOS
★ SEGA SATURN CONSOLES
★ SATURN SPECIAL SEARCH
Saturn Games and Demos
▶ GAME BASIC DATABASE
▶ DEZAEMON 2 DATABASE
Find the Best Auctions
▶ SEGA SATURN STORE
★ SEGA SATURN STORE GAMES
★ SEGA SATURN STORE DEMOS
★ VIDEO GAME STORE
Sega, Nintendo, SNK, NEC, Atari, Bandai, Sony, Microsoft, Etc.
FAQ and Tips
FAQ et Astuces
▶ HOTTEST AUCTIONS
★ SEGA SATURN AUCTIONS
★ SEGA DREAMCAST AUCTIONS
▶ SISTER CHANNELS
★ TOY STORE
Lego®, Playmobil®, K'Nex, Tobot, Hot Wheels, Micro Machines, Etc.
★ SEXY LINGERIE STORE
★ EBAY COUPONS AND DEALS
FRENCH REVIEWS
SGB Forums
SEGA-Mag
Megaoldies
SEGA-Legacy
SegaXtreme
Our banner:

Sega Saturn Game Information
Quake
MK81066-50
Quake is a First Person Shooter game, published by Sega Enterprises, Ltd., which was released in Europe in 1997 for the Sega Saturn.
Box / Packaging:
Plastic EU Case
Number of Players:
Unknown
Age Rating:
Barcode(s):

Official Barcode

Barcode
Peripheral(s) Compatibility:
Unknown
External Cartridge Required:
None
Compatible with VideoCD Card:
Unknown
Sega Saturn Hardware Compatibility
Language(s)
| | |
| --- | --- |
| In Game | Unknown |
| In the Manual | |
| On the Back Cover | |
Game Ratings
Satakore User Rating
Sega Saturn Magazine (UK)
92 %

Rank in the Top 50 (SSM Issue #28 - February 1998) : 19 / 50
Consoles+ (Fr)
88 %
JoyPad (Fr)
90 %
MegaForce (Fr)
84 % - 82 %
Player One (Fr)
79 %
Usage of Memory Backup:
Unknown
Minimum Memory Required:
Unknown
Type of Video Files:
Unknown
Type of Sound and Music Files:
Unknown
Omake / Bonus(es) on CD:
Unknown

List of games and demos with Omake / Bonus(es)
---
---
From the Same Series
None
---
Data Collection
6 Items
| # | Item | Internal Code / Catalog |
| --- | --- | --- |
| 1 | CD | 670-11101-50 |
| 2 | Plastic EU Case | None |
| 3 | Manual | 672-4535-50 |
| 4 | Cover | 670-11102-50 |
| 5 | Australian Version (Sega Ozisoft): Sticker on the Front Cover (Age Rating), Sticker (Optional) and Barcode on the Back Cover (Optional) | ?? |
| 6 | Portuguese Version (Ecofilmes): Manual, Sticker on the Front Cover, Sticker and Barcode on the Back Cover (Optional) | STJSE0738 |
Any error or missing stuff? Please contact us
---
Who has it? / Who is looking for it?
---
---
---
Top :: Bottom Multimedia Data
Picture of the Actual Game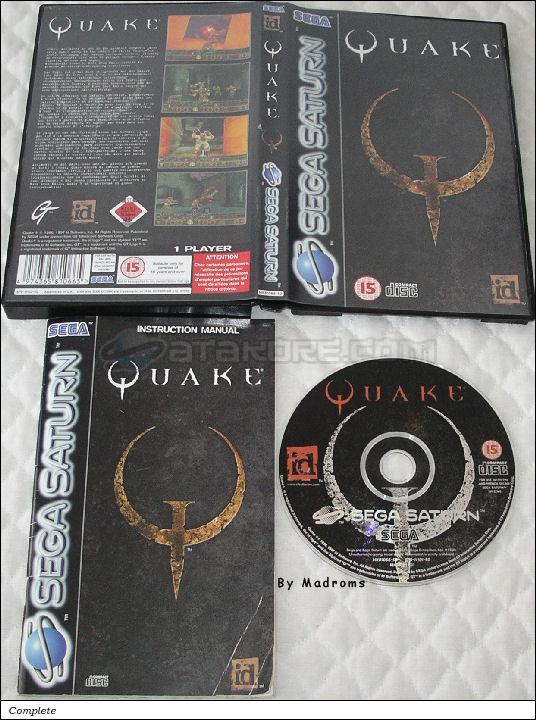 ---
---
---
Review:
Quake, the grandfather of modern multiplayer FPS, was long thought to be impossible to port to 32bit consoles. Due to the complexity and memory-hungriness of the full 3d landscape, the Playstation was never blessed with a proper port. The Saturn however, got a port of Quake, and not just any kind, but an excellent one at that. This game proves wrong all rumors that the Saturn can't do 3d.

Ported by the same Lobotomy who created the ace Exhumed / Powerslave and already proved their worth with a near perfect port of Duke Nukem 3d, Quake was rebuilt from ground up on the Saturn. The PC version was indeed much too powerful to run on the Saturn, so instead Lobotomy opted to reconstruct the whole game from scratch, in their Saturn-optimized engine. This is immediatly noticable minutes into the game: while the game still play like Quake, the atmosphere of the landscape is much better, due to the inheritent use of Lightmaps. Slipgates have a pulsating red aura, and every light effect is a million times better. With all this technical virtuosity, Saturn Quake also runs rather fast, around 15-20fps, making it perhaps the most complex 3d game on the Saturn. The only limitation is that corpses will disappear after a set of time, but when you consider that the whole game is running from 2 MB of RAM, this is not even a problem.

As with all console FPS games, the achilles' heel is the control scheme. Saturn Quake takes this obstacle as well as Duke 3d did, with fully remappable controls, and full support of the analog pad. Of course, even with an analog lookview, the controls will seem very rigid compared to keyboard/mouse combination, but its easy to get used to it, and it is most definetaly very effective.

With the excellent controls, you can dive headfirst into the gritty, rotting world of Quake. The game pits you against hellish, gruesome creatures, ranging from simple zombies to the indescribable. With as much as 40 levels, and hardcore industrial music by Trent Reznor of Nine Inch Nails, the game is great single player fun... But, it lacks multiplayer.

Yup, the biggest feature of Quake, Multiplayer Deathmatch, has not made it into the Saturn version. Of course there really weren't many options to get it working, given how rare the Linkup cable and Netlink adapters were. Of course you can still play Death Tank Zwei, which is a frenetic, incredibly game in multiplayer (especially when all ten players play simultaneously), but it's still not the same as a nice Quake Deathmatch party.

Other then the lack of proper multiplayer, Saturn Quake looks wonderful, sounds wonderful, plays wonderful... if you are into console FPS games, it's definitely worth picking up, if for nothing else, but to see what the Saturn is truly capable of.
Top :: Bottom Tips, Tricks, Cheats and Walkthroughs
GAMES and TOOLS
The Sega Saturn Database is the master list of all the games and demos that have been released for the Sega Saturn. More than a single list, it is a full database with a lot of informations provided for each entry.
---