▶ SEGA SATURN DATABASES
★ SEGA SATURN GAMES
★ SEGA SATURN DEMOS
★ SEGA SATURN CONSOLES
★ SPECIAL SEARCH
Saturn Games and Demos
▶ GAME BASIC DATABASE
▶ DEZAEMON 2 DATABASE
Find the Best Auctions
▶ SEGA SATURN STORE
★ SEGA SATURN STORE GAMES
★ SEGA SATURN STORE DEMOS
★ VIDEO GAME STORE
Sega, Nintendo, SNK, NEC, Atari, Bandai, Sony, Microsoft, Etc.
FAQ and Tips
FAQ et Astuces
▶ HOTTEST AUCTIONS
★ SEGA SATURN AUCTIONS
★ SEGA DREAMCAST AUCTIONS
▶ SISTER CHANNELS
★ TOY STORE
Lego®, Playmobil®, K'Nex, Tobot, Hot Wheels, Micro Machines, Etc.
★ SEXY LINGERIE STORE
★ EBAY COUPONS AND DEALS
FRENCH REVIEWS






SGB Forums
SEGA-Mag
Megaoldies
SEGA-Legacy
SegaXtreme

Our banner:

Sega Saturn Game Information
Gunbird
ガンバード
T-14402G
Gunbird (ガンバード) is a Shoot-em-up game, developed by Psikyo and published by Psikyo / Atlus, which was released in Japan in 1995 for the Sega Saturn.
---
Alt. title: Mobile Light Force (Alt)

Japanese Exclusive Release
Publisher:
Psikyo / Atlus
Box / Packaging:
Standard CD Case
Number of Players:
1~2 (Simultaneous)
| | |
| --- | --- |
| Age Rating: | |
| Barcode(s): | Official Barcode |
Peripheral(s) Compatibility:
Unknown
External Cartridge Required:
None
Compatible with VideoCD Card:
Unknown
Sega Saturn Hardware Compatibility
Language(s)
| | |
| --- | --- |
| In Game | Unknown |
| In the Manual | |
| On the Back Cover | |
| Playability for non-japanese people | Unknown |
Usage of Memory Backup:
Unknown
Minimum Memory Required:
Unknown
Type of Video Files:
Unknown
Type of Sound and Music Files:
Unknown
Omake / Bonus(es) on CD:
Unknown

List of games and demos with Omake / Bonus(es)
---
Alt. Versions
1 Entry
---
From the Same Series
None
---
---
Who has it? / Who is looking for it?
---
Revisions
No known revision for this game
Any error or missing stuff? Please contact us
---
Variants / Minor Revisions / Alt. Versions
No known variant / minor revision / alt. version for this game
Any error or missing stuff? Please contact us
---
Promo Sleeves
No known promo sleeve for this game
Any error or missing stuff? Please contact us
Top :: Bottom Multimedia Data
Picture of the Actual Game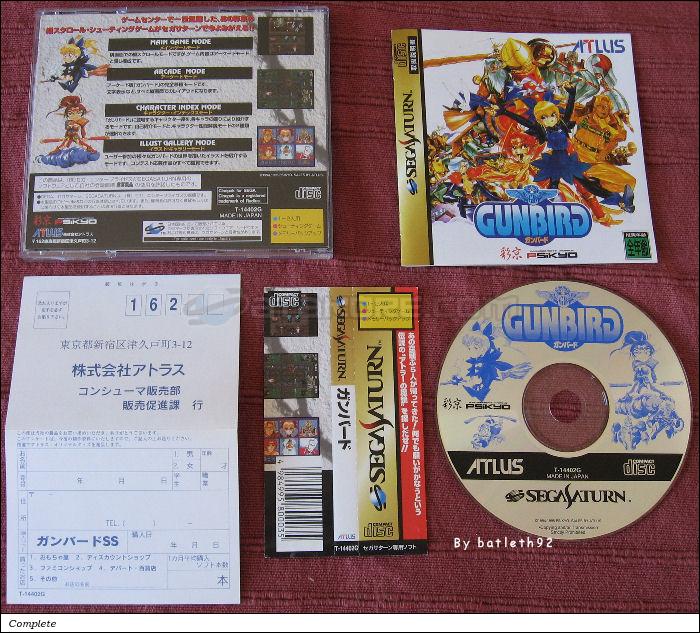 ---
Screenshots Made by Murazame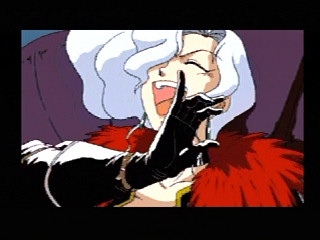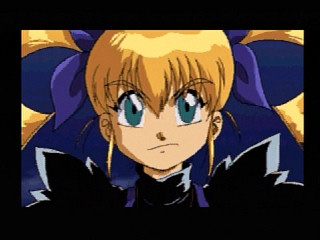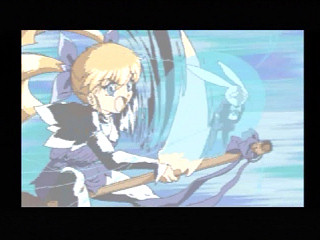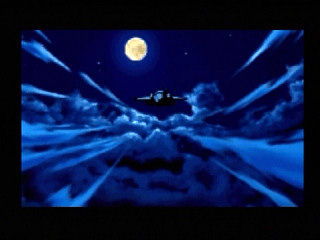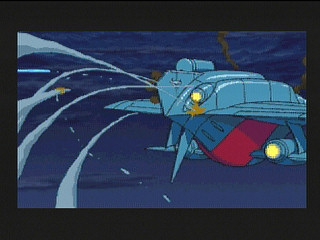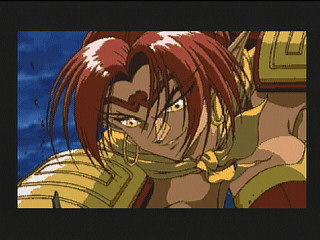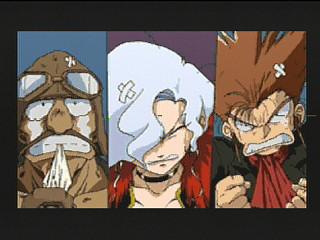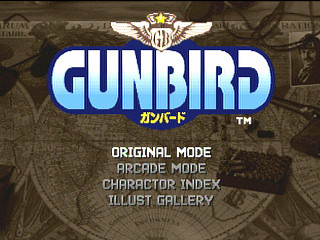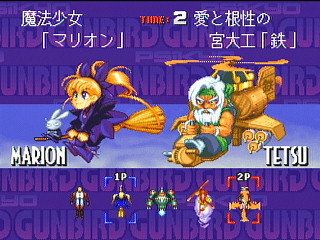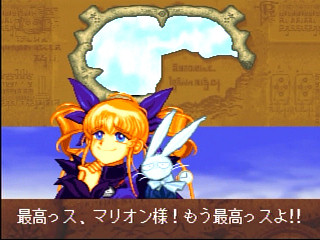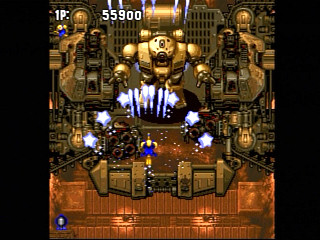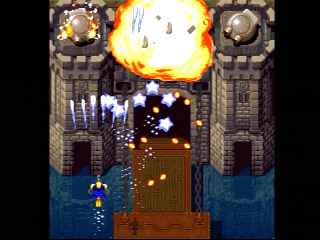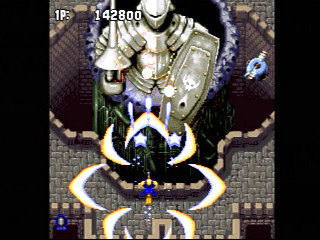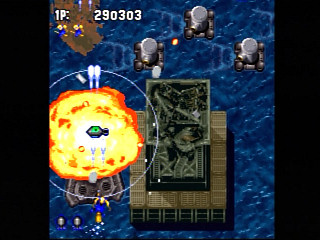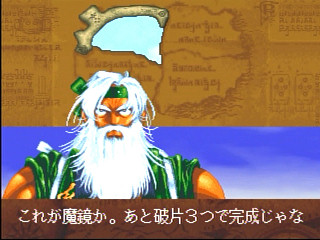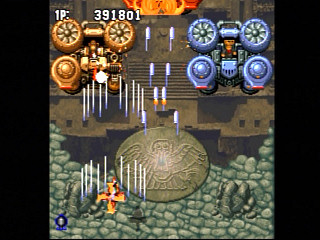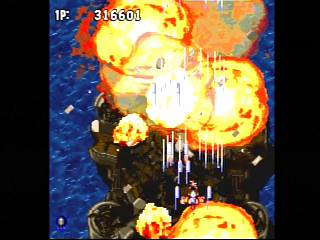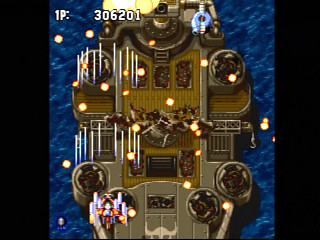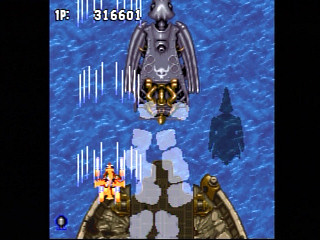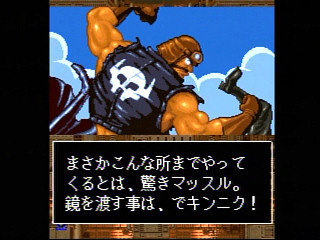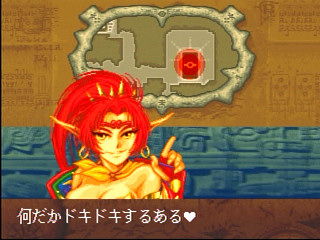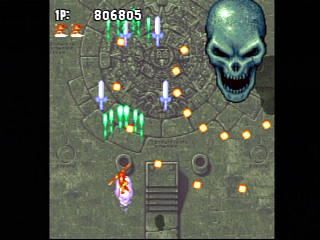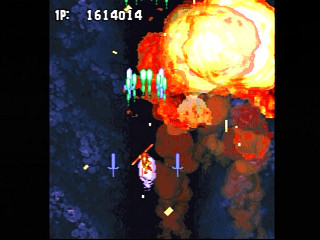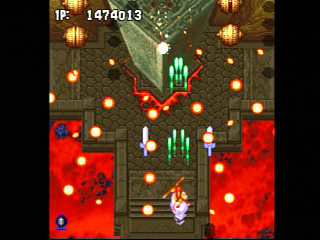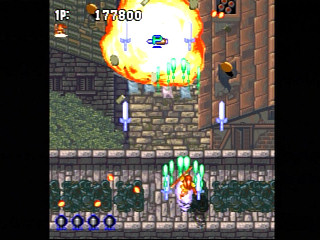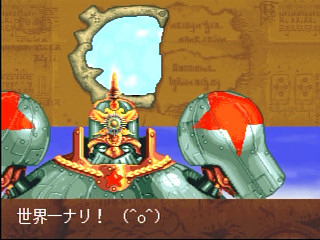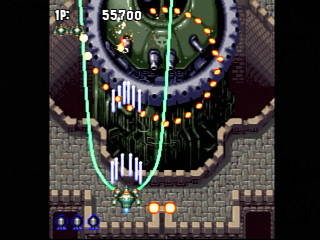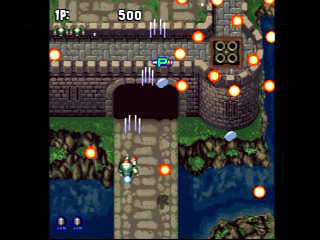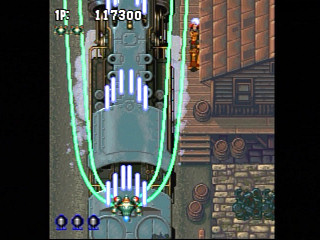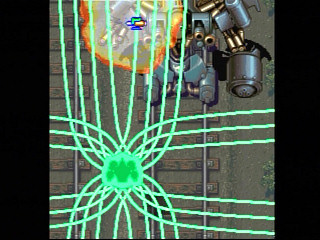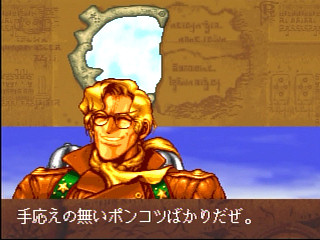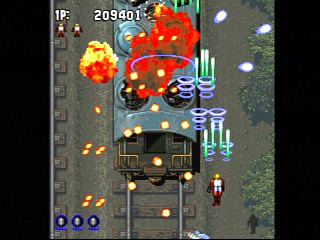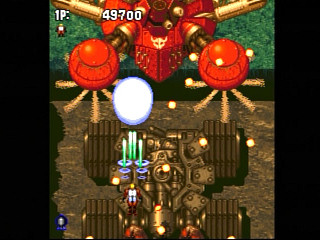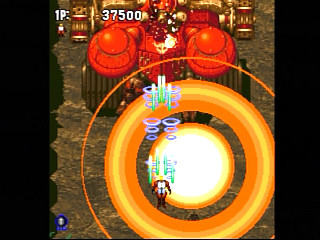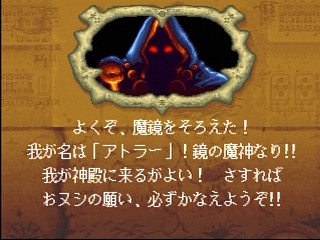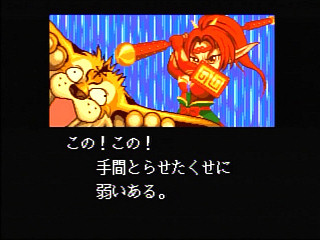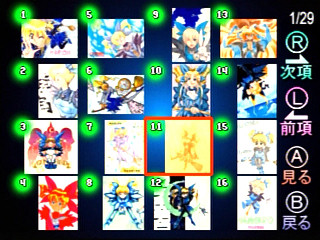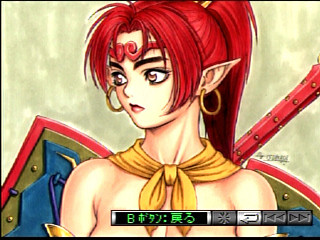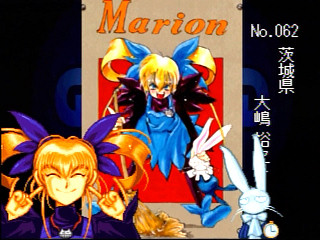 ---
1 External Video
---
Review:
One of the many Psikyo bullet-hell shooters, Gunbird is created by mixing cutesy anime elements into the usual formula. With 5 completely different, but very stereotypical characters (scientist earth hero, witch, robot, etc), you embark on a quest to restore a magical mirror and what lies within the mystical artifact. On your journey, you encounter ultra-ludicrous bullet curtains, and a "Team Rocket" esque group of recurring losers.

Like all the other Psikyo shooters, Gunbird features super fast action and short levels. All 5 characters use fundamentally different types of attacks, so the longetivity comes from mastering all characters. Otherwise, the game doesn't bear any challenge: you are given unlimited continues. The trick is that on the last 3-4 levels, you can only continue by restarting the level, so you do need to apply some extremely minimal learning curve if you want to beat the latter bosses. Basically your goal is to learn every level to the point that you can best them from one continue. This may sound hard given the bullet hell nature of the game, but you can literally bomb the opponents to oblivion, and replenish your supplies when you lose one of your three lives - the levels are short enough to allow for this tactic, except maybe the very last level where you actually need to dodge the midboss to save up your bombs.

To make up for the lack of game content, Gunbird has envious amounts of fanservice. There are over 10 different endings, TATE mode gameplay (Original and Arcade mode only differ in their screen orientation) and there are multiple galleries for you to enjoy. One of them serves as a tutorial (a different one for every character!), as well as a character portrait gallery. The other is a collection of art, both professional (from famous artists like Tsukasa Kotobuki) and fanart from a contest. These pictures are nice, but you can't zoom on them to enjoy all the details. Also, only the professional art gallery is in high-resolution, everything else uses regular, low resolutions. Furthermore, every tutorial and character introduction is narrated. This is rather nice but its japanese only. The one big problem with the bonus content is that all of it is available from the beginning - no unlockables, not as far as I know. The only "hidden" artwork in the game are the endings, and once you memorized the attack patterns of the enemies, you can watch every possible endgame in the work of a weekend.

The problem with Gunbird is, that its so damn alike other Psikyo shooters. I swear they have a complete "SHMUP BUILDER" application, because most of their games are way too much alike, only the art differs. Case in point: Strikers 1945. These two games are so much alike that they didn't even bother to rework the powerup icons. Both Gunbird and Strikers 1945 are decent games in their own, but, play them after each other and you'll feel like you bought the exact same game twice.
Top :: Bottom Tips, Tricks, Cheats and Walkthroughs
© Copyright 2005 - 2023 Satakore.com