▶ SEGA SATURN DATABASES
★ SEGA SATURN GAMES
★ SEGA SATURN DEMOS
★ SEGA SATURN CONSOLES
★ SATURN SPECIAL SEARCH
Saturn Games and Demos
▶ GAME BASIC DATABASE
▶ DEZAEMON 2 DATABASE
Find the Best Auctions
▶ SEGA SATURN STORE
★ SEGA SATURN STORE GAMES
★ SEGA SATURN STORE DEMOS
★ VIDEO GAME STORE
Sega, Nintendo, SNK, NEC, Atari, Bandai, Sony, Microsoft, Etc.
FAQ and Tips
FAQ et Astuces
▶ HOTTEST AUCTIONS
★ SEGA SATURN AUCTIONS
★ SEGA DREAMCAST AUCTIONS
▶ SISTER CHANNELS
★ TOY STORE
Lego®, Playmobil®, K'Nex, Tobot, Hot Wheels, Micro Machines, Etc.
★ SEXY LINGERIE STORE
★ EBAY COUPONS AND DEALS
FRENCH REVIEWS
SGB Forums
SEGA-Mag
Megaoldies
SEGA-Legacy
SegaXtreme
Our banner:

Sega Saturn Game Information
Radiant Silvergun
レイディアント シルバーガン
T-32902G
Radiant Silvergun (レイディアント シルバーガン) is a Shoot-em-up game, developed by Gonzo / Treasure and published by Treasure / Entertainment Software Publishing (ESP), which was released in Japan in 1998 for the Sega Saturn.

Japanese Exclusive Release

Developer:
Gonzo / Treasure
Publisher:
Treasure / Entertainment Software Publishing (ESP)
Box / Packaging:
Standard CD Case
Number of Players:
Unknown
| | |
| --- | --- |
| Age Rating: | |
| Barcode(s): | Official Barcode |
Peripheral(s) Compatibility:
Unknown
External Cartridge Required:
None
Compatible with VideoCD Card:
Unknown
Sega Saturn Hardware Compatibility
Language(s)
| | |
| --- | --- |
| In Game | Unknown |
| In the Manual | |
| On the Back Cover | |
| Playability for non-japanese people | Unknown |
Game Ratings
| | |
| --- | --- |
| Satakore User Rating | |
| SatMag (Jpn) Readers | 9,3031 / 10 - [rank: 37 / 945] |
| Sega Saturn Magazine (UK) | 95 % |
| Consoles+ (Fr) | 95 % |
| JoyPad (Fr) | 8 / 10 |
Usage of Memory Backup:
Unknown
Minimum Memory Required:
Unknown
Type of Video Files:
Unknown
Type of Sound and Music Files:
Unknown
Omake / Bonus(es) on CD:
Unknown

List of games and demos with Omake / Bonus(es)
---
---
From the Same Series
None
---
---
Who has it? / Who is looking for it?
---
---
---
Top :: Bottom Multimedia Data
Picture of the Actual Game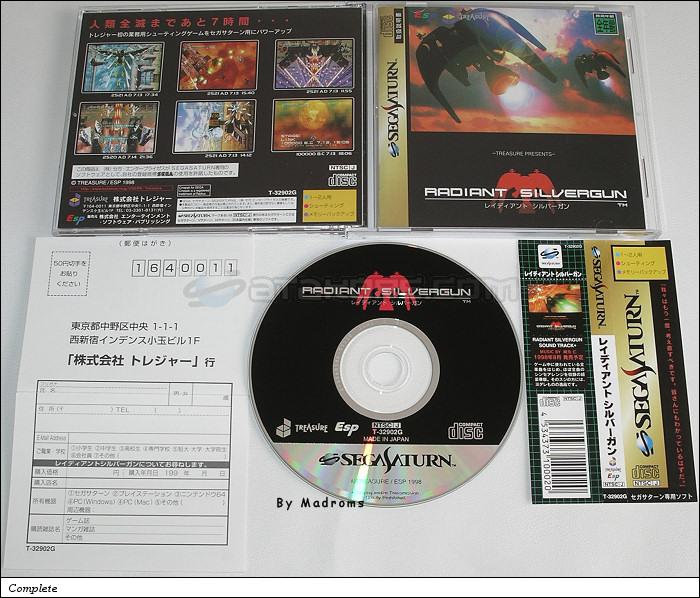 ---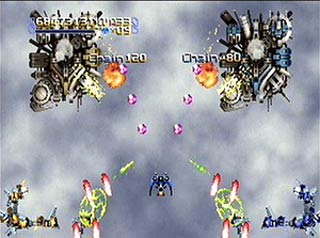 ---
Video(s) Made and Recorded by Asta
Video Links:
On Youtube:
Part 1
---
Review:
French Review Available Here
Without gushing about this title too much, it's safe to say Radiant Silvergun still holds the title for being one of the greatest shmups ever made and with reason. No other shmup on the market to this date has as many weapon combos or as varied a weapon system as RSG, and no shmup to this date has bosses to match.

RSG's gameplay ranks anywhere from moderate to extremely difficult depending on the level and weapon(s) needed, and scoring well is the main focus instead of just beating the game outright. The Saturn version is a must since it retains the Arcade mode as well as Saturn mode leaving you with more gaming options, including intermissions, extra levels and bosses!

Graphically speaking, RSG pushes the Sega Saturn to its hardware limits providing both 2D and 3D aspects throughout. Although some parts look dated in comparison with today's graphics, RSG still retains the #1 title due to the rock solid gameplay and audio throughout the game. RSG really is the complete shmup package and will entertain and amaze even the most jaded shmup fans.

It's rather unfortunate that RSG's price tag is so high due to all the hype surrounding the game, but the game is well worth it for serious collectors. The hype is warranted because RSG really is something to behold, and nothing else in the genre comes remotely close including the purported sequel Ikaruga. People giving this game negative reviews are trying to be different out of spite, or aren't fans of the genre. Disregard any negative press because RSG is the real deal!
Top :: Bottom Tips, Tricks, Cheats and Walkthroughs
Untested:
Action Replay Codes:
Master Code
F6000914 C305
B6002800 0000
Invincible P1
3601E631 00FF
Invincible P2
3601E731 00FF
Infinite Lives P1
36076AB6 009
Infinite Lives P2
36076AB7 0009
Specail Attack Bar Max P1
3601E5F2 00FF
Specail Attack Bar Max P2
3601E6F2 00FF
Max Weapon Level P1
1601CE02 0021
1601CE04 2121
Max Weapon Level P2
1601CEBE 0021
1601CEC0 2121
Infinite Credits
3601CDE0 0009
GAMES and TOOLS
The Sega Saturn Database is the master list of all the games and demos that have been released for the Sega Saturn. More than a single list, it is a full database with a lot of informations provided for each entry.
---