▶ SEGA SATURN DATABASES
★ SEGA SATURN GAMES
★ SEGA SATURN DEMOS
★ SEGA SATURN CONSOLES
★ SPECIAL SEARCH
Saturn Games and Demos
▶ GAME BASIC DATABASE
▶ DEZAEMON 2 DATABASE
Find the Best Auctions
▶ SEGA SATURN STORE
★ SEGA SATURN STORE GAMES
★ SEGA SATURN STORE DEMOS
★ VIDEO GAME STORE
Sega, Nintendo, SNK, NEC, Atari, Bandai, Sony, Microsoft, Etc.
FAQ and Tips
FAQ et Astuces
▶ HOTTEST AUCTIONS
★ SEGA SATURN AUCTIONS
★ SEGA DREAMCAST AUCTIONS
▶ SISTER CHANNELS
★ TOY STORE
Lego®, Playmobil®, K'Nex, Tobot, Hot Wheels, Micro Machines, Etc.
★ SEXY LINGERIE STORE
★ EBAY COUPONS AND DEALS
FRENCH REVIEWS






SGB Forums
SEGA-Mag
Megaoldies
SEGA-Legacy
SegaXtreme
Our banner:

Sega Saturn Game Information
Street Fighter Zero 3
ストリートファイターZERO3
T-1247G
Street Fighter Zero 3 (ストリートファイターZERO3) is a Fighting 2D game, developed and published by Capcom Co., Ltd., which was released in Japan in 1999 for the Sega Saturn.
---
Alt. title:
Street Fighter Alpha 3 (Alt)

Japanese Exclusive Release
Developer:
Capcom Co., Ltd.
Publisher:
Capcom Co., Ltd.
Box / Packaging:
Standard CD Case
Number of Players:
1~2 (Simultaneous)
| | |
| --- | --- |
| Age Rating: | |
| Barcode(s): | Official Barcode |
Peripheral(s) Compatibility:
Control Pad
Compatible with VideoCD Card:
No
Sega Saturn Hardware Compatibility
Language(s)
| | |
| --- | --- |
| In Game | |
| In the Manual | |
| On the Back Cover | |
| Playability for non-japanese people | 90 % |
Usage of Memory Backup:
Yes
Minimum Memory Required:
84 for each slot
Type of Backup:
Game Progress / Config / High Scores
Type of Video Files:
Cinepak 1.06
Type of Sound and Music Files:
Unknown
Omake / Bonus(es) on CD:
None

List of games and demos with Omake / Bonus(es)
---
---
---
---
Who has it? / Who is looking for it?
---
---
---
Top :: Bottom Multimedia Data
Picture of the Actual Game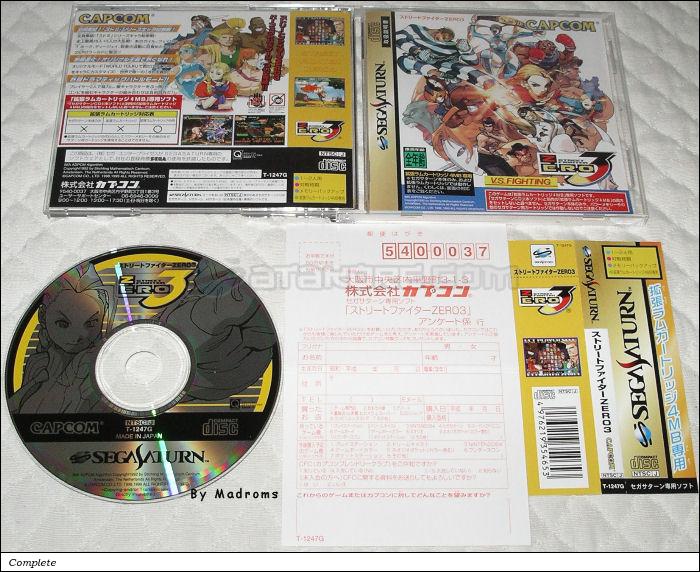 ---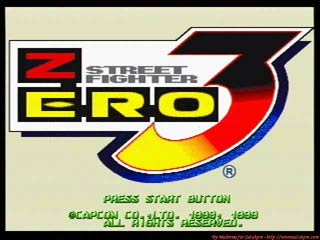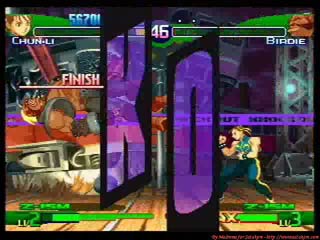 ---
Video(s) Made and Recorded by Azath and Madroms
---
Review:
Street Fighter Zero 3 is the last of the Street Fighter Zero series. It has 9 different modes (Arcade, Versus, Training, World Tour, Entry, Team Battle, Survival, Dramatic Battle and Final Battle) and no less than 33 different warriors (Ryu, Ken, Chun-li, Dhalsim, Zangief, Nash, Guy, Sakura, Sagat, Adon, Rose, Sodom, Dan, Cody, Balrog, Rolento, R.Mika, Gen, Gouki, Blanka, Cammy, E.Honda, Birdie, Karin, Dee Jay, Fei-long, T-Hawk, Vega, Juli, M. Bison, Juni, Guile and Satsui no Hadou ni Mezameta Ryu).
One new option appears in SFZ3: you can take control of how your super combo bar works, thanks to the ISM mode. So you can elaborate different strategies according to the option you choose.
To be more powerful, the game takes advantage of the 4MB RAM Cartridge to have short loading times.
Street Fighter Zero 3 is the best Street Fighter game on the Sega Saturn, but also the most expensive one.
Top :: Bottom Tips, Tricks, Cheats and Walkthroughs
GAMES and TOOLS
The Sega Saturn Database is the master list of all the games and demos that have been released for the Sega Saturn. More than a single list, it is a full database with a lot of informations provided for each entry.
---